Taylorized PR-Public Relations Taylored to your Business!
Prepare for Hunting Season
Return to Blog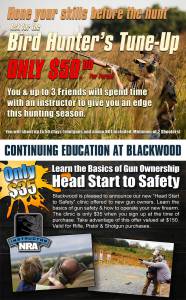 Education and safety is extremly important before you take your weapon out to use. That's why Blackwood Gun Club has started two new programs to kick off the hunting season. One, for the Bird Hunter wanting to hone his or her skills and the other, to help anyone who is new to the shooting sports and wants to learn the basics of gun ownership.
Bird Hunter's Safety Tune Up allows practice with 50 clays and up to 3 friends to hone your skills before the trip.
Head Start to Safety is a clinic for new gun owners. Learn gun safey and how to operate your firearm. Sign up for the class when you purchase your pistol, rifle, or shotgun.
Give us a call at 936.441.4040 for more information. Blackwood Gun Club
Posted on Wednesday, Sep 13, 2017 - 01:12:00 PM CST by FyrWfe
Blog by
FyrWfe
|
Return to Blog
Articles by Month of Posting