Events » Arts & Entertainment
The Samy Jo Band @ The Corner Pub
Print Listing
Send to Friend
Send this listing to someone
Verification Information
Type in what you see above: *
Verification Information
Please type the characters you see in this picture. Note: The characters are all lower case.
x
Share on Facebook
Tweet This
Add To Calendar
Add Listing to Calendar
x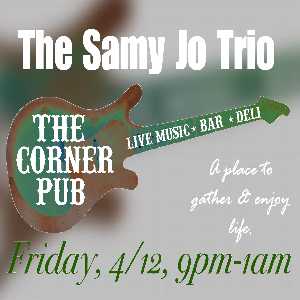 April 05, 2019 @ 9:00 PM - 12:00 PM
The Samy Jo Trio in an encore acoustic/piano performance @ The Corner Pub in Conroe, TX: Don't miss this show!
Contact Details
Email Us For More Info