Events » Kid's Fun & Activities
Dr. Seuss' Birthday
Print Listing
Send to Friend
Send this listing to someone
Verification Information
Type in what you see above: *
Verification Information
Please type the characters you see in this picture. Note: The characters are all lower case.
x
Share on Facebook
Tweet This
Add To Calendar
Add Listing to Calendar
x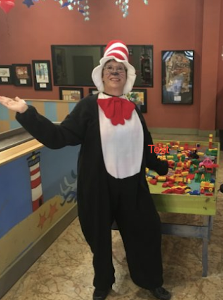 March 01, 2019 @ 11:00 AM - 12:30 PM
The Woodlands Children's Museum will celebrate Dr. Seuss' 117th birthday Friday, March 1.

Children are invited to enjoy special Storybook Theatre presentations at 11 a.m. and noon, where little ones can hear some of Dr. Seuss' greatest stories and create Dr. Seuss-inspired art.

Activities will take place at 4775 W. Panther Creek Drive, Suite 280, in The Woodlands.

Dr. Seuss' birthday celebration is included in the museum's $7 admission for visitors age 1 and older.

For more information, visit woodlandschildrensmuseum.org or call 281-465-0955.
Location Details
4775 W. Panther Creek Drive, Suite 280
The Woodlands, Texas 77381