Events » Kid's Fun & Activities
Fitness Frenzy
Print Listing
Send to Friend
Send this listing to someone
Verification Information
Type in what you see above: *
Verification Information
Please type the characters you see in this picture. Note: The characters are all lower case.
x
Share on Facebook
Tweet This
Add To Calendar
Add Listing to Calendar
x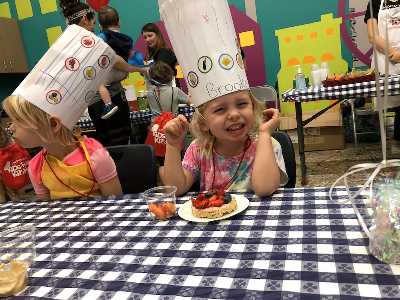 February 23, 2019 @ 10:00 AM - 2:00 PM
Saturday, Feb. 23, will be a day devoted to health, nutrition, exercise—and of course, fun—at The Woodlands Children's Museum.

The museum's Fitness Frenzy is set for 10 a.m.-2 p.m. and will be packed with informative and entertaining activities, from fitness demonstrations to visits at 10:30 and 11:30 a.m. by "Chef Plate," a colorful character devoted to teaching children about healthy living.

Fitness Frenzy presenters include The Woodlands Lions Club, providing vision screenings, and Master Hong Tae Kwon Do, showcasing a demonstration beginning promptly at 1 p.m.

Also participating are Texas A&M AgriLife Extension Service in Montgomery County and Junior League of The Woodlands, which will present "Kids in the Kitchen" 10 a.m.-1 p.m.
Location Details
4775 W. Panther Creek Drive, Suite 280
The Woodlands, Texas 77381