/

/

/

4 Things to Check Before Hiring an Air Conditioning Repair Service
4 Things to Check Before Hiring an Air Conditioning Repair Service
By:
TCS A/C and Heating | Published 06/14/2022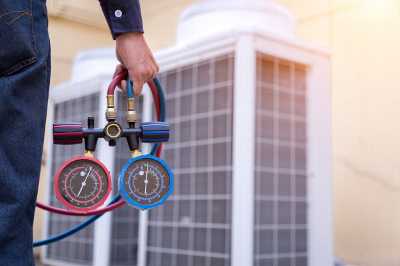 At any time, you would certainly need someone to repair your AC. Whether it is the refrigerant, the coils, or the compressor, you have to call someone who has the technical know-how to diagnose the problem and fix it.
So, you go to a web a browser and search for one, and you type in "AC companies near me". The thing is, there could be so many air conditioning repair service companies in your area, so how do you choose the best one?
We are TCS AC & Heating, and we will give you some tips today how to choose the best repair services o you get your money's worth.
The 4 things to check before hiring an air conditioning repair service are:
Adequate Experience
Customer Feedback
Estimated Cost of Service
Company License
Let us walk you through each step, and hopefully you gain insight how to better choose your air conditioning repair service company in the future.
Adequate Experience
How long has the company in operation? We are not saying that they need to be around for decades. One thing you may want to check is how long the technicians have been doing this.
While it is true that there are service people who are new to the industry, it makes sense that this person, who is a trainee, must be accompanied by someone who has been doing this for a long time. An air conditioning repair service company in your area may or may not have a website.
If it does, check their profile and find out their tenure in the industry.
Customer Feedback
Some companies have websites where you can see the customer reviews, and some don't. To get customer feedback, you have to ask around your neighborhood if they have happened to work with a particular air conditioning repair service that you are eyeing.
If not, you can browse Facebook to find out if the company has social media presence. And if they do, then they surely have comments about how the company has performed, and whether they are satisfied or not. If you cannot find any, try to get referral from your friends.
Estimated Cost of Service
There is no single answer to the cost of an air conditioning repair service. The cost of repair depends in the damage, your location, and the amount of work that needs to be done.
For example, we at TCS AC & Heating service the Conroe, Montgomery, & Willis areas in Texas. If we have to take our service farther, then it means we have to travel longer and spend more gas, and therefore we have to increase the prices a little bit.
Shop around a little more on Google with the keywords "AC companies near me" and call these companies for a free quote.
Company License
Validate of a company is licensed. Each state issues a license to ensure that the personnel knows how to handle refrigerants and other chemicals. They have to go through adequate training, and they are expected to comply with environmental laws and safety.
There is no federal law that makes certification mandatory. But states do have it. If you are dealing with a company that is not licensed, chances are they also have limited knowledge about the industry, and that they just learned the trade over the years, but no formal training was involved.
Summary
Always do your due diligence before choosing an air-con repair service company. Shop around online, make phone calls, get estimates and referrals, and then choose the best one.
At TCS AC & Heating, we met all these four requirements. If you have any air conditioning repair or installation needs in Conroe, Montgomery, and Willis, just give us a call.
Articles by Month of Posting