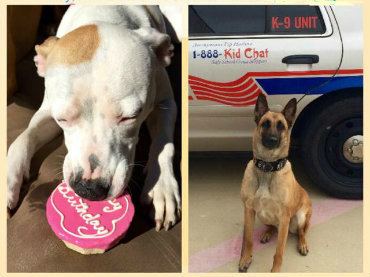 CONROE, Texas -- Annually some lucky dog is recognized as the recipient of the "Second Chance" Award, given to a well-deserving canine who goes above and beyond just being 'man's best friend.' The award is presented to ensure that the dog gets a second chance should the need occur.
Lily, Pit Bull Ambassador & Therapy Dog ensures K-9 gets a second chance.
Lily the Pit Bull Ambassador and Therapy Dog started the awards program last year, and presents it annually on her birthday for good reason.
"Four years ago, I was born somewhere in Montgomery County, Texas, only to be surrendered to a kill shelter because my breeder didn't like my markings. Fortunately, unlike millions of shelter dogs, I got a second chance! I was rescued and got a forever family of my own," as stated by Lily through a dog interpreter. "Last year I started the tradition of celebrating second chances on my birthday by giving another dog a second chance."
Lily indicated with great pride and pleasure that K9 Clara, an officer with the Conroe ISD Police Department, is this year's recipient of Lily's 2nd Annual 'Second Chance' gift...a bullet and stab-proof protective vest from Vested Interest in K9, in the hope that the protective vest will be K9 Clara's second chance should she ever need one, when carrying out her duties keeping our community safe.
K9 Clara is a 32-month old Belgian Malinois, who was purchased from Cobra Canine in Sweetwater, TN. She became a member of the Conroe I.S.D. Police Department in November of 2013, and began her formal Police Training, completing 800 hours of training, and is now certified in Explosive Detection through the United States Police Canine Association and the ATF, National Odor Recognition Test.
K9 Clara's partner is Corporal Meeks, who has been a K9 Handler with the Conroe I.S.D. Police Department for 16 months since 2013, and is a ten-year veteran with Conroe I.S.D. Police Department. Clara and Corporal Meeks train at least four hours a week, every week. When not on the job, Clara enjoys playing ball, tug-of-war, and chewing on Kong toys. K9 Clara should be receiving her vest in 10-12 weeks. Stay tuned for pictures once she receives the vest.
Lily extends her sincerest thanks and appreciation to K9 Clara, Corporal Meeks, and to the Conroe ISD Police Department for their service to our community and surrounding areas. She asks that the community thank all the hard working, dedicated law enforcement officers, human and K9 alike, who put their lives on the line every single day to keep us safe.
"We hope that increasing K9 Clara's safety while in the line of duty, will directly benefit Corporal Meeks and the other officers as well," indicated Lily.
Read more about Lily, Pit Bull Ambassador & Therapy Dog on her Facebook page at the link provided.