/

/

Tea on the Lawn to benefit New Danville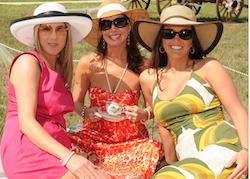 MONTGOMERY COUNTY, Texas -- More tea, please! The annual "Tea on The Lawn" benefiting New Danville will be held on Friday, April 20, 2012 from 10:30 a.m. to 2:00 p.m. at New Danville's community located at 10951 Shepard Hill in Willis, Texas.

New Danville is a master-planned community for adults with mild intellectual and developmental disabilities.

As is the Tea's tradition, attendees will abound in their spring finest, including lovely hats, frilly sundresses, and lady-like accessories. Dainty tea sandwiches and sweets will be served under a tented venue on the sprawling countryside backdrop of New Danville's master-planned community. Individual tickets are $100, and proceeds from the event benefit New Danville's adult education and training programs.

According to event chair Tanya Urban and co-chair Natalie Noack, this year's Tea will feature luncheon keynote speaker, Deborah Helman. She is co-founder of Wonderwild, a free-play party facility for children, and a veteran marketing-industry executive. Drawing on her experiences at Sotheby's, Martha Stewart Living Omnimedia, and New York's prestigious Parsons School of Design, Helman will inspire guests and share ways in which each person can grace the world with their gifts.

In keeping with the theme of the featured keynote, a special feature of this year's tea will be an art auction featuring canvases painted by New Danville wrangler who are enrolled in art classes.

Kathy Sanders, president and founder of New Danville, notes, "We are very excited to once again host this creative and fun event. During the last four years that we've hosted our popular Tea on the Lawn, we've had a great turnout of caring women who want to support the wonderful programs and services that New Danville provides to this underserved population."

New Danville's mission is to provide an integrated community for adults with intellectual and developmental disabilities, such as autism and traumatic brain injury, in addition to seniors and others. This unique community provides an affordable, holistic approach to services and supports for those who seek to live independently. New Danville offers its residents and day program clients a host of life enriching, physical, social and skills-training activities – it is a special place where they can live, learn, work and grow emotionally, socially and spiritually in a safe, caring environment. For more information New Danville or about the 4th Annual "Tea on The Lawn," call (936) 344-6200, email info@newdanville.org, or visit the website.