/

/

In the blink of an eye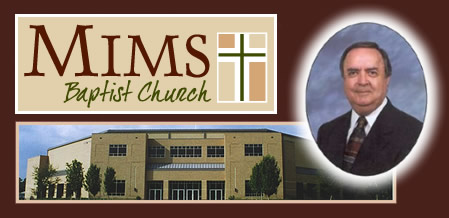 CONROE, Texas -- While traveling down Porter road through the town of Conroe, it is hard not to notice Mims Baptist Church.
Preparing for the Lord's coming and reaching the community for Christ - A profile of Mims Baptist Church
The well known buildings are a fixture in the Conroe landscape and history. Starting in 1933 from a small group of Christians meeting at the Old Humble Oil Camp with the help of a district missionary, Rev. Henry Jones, Mims became a lighthouse for the Gospel of Christ. From that small meeting grew an assembly of people dedicated to the discipleship and outreach to their community. Many people that are familiar with Mims are not aware that Mims Baptist Church actually started its existence being called the First Baptist Church of Humble Camp. It wasn't until 1944 that the location of the church moved from the area that is now the Jefferson Chemical Company land to its present location on Porter Road. At that time, the name of the church was changed to Mims Memorial Baptist Church in honor of Mr. and Mrs. Ira B. Mims, who donated the three acres that the new church would eventually be built on. Most people are also unaware that George Burns was Mims' first pastor. I am not talking about the well known comedian; I am talking about the London, Texas pastor Rev. George D. Burns.
Gene Kendrick has served as Pastor of Mims Baptist Church since 1986 and has overseen the enormous success that God has allowed Mims to experience. Pastor Kendrick has allowed God to work in and through his life. This is evident through the many salvations and baptisms that have occurred over the many years he has shepherded the church. Young men and women have grown up in the Lord and have gone on to become strong Christians. Many have become pastors themselves as well as missionaries, children ministers, youth pastors, mentors and Christian business people.
Several ministries have started at Mims that have positively affected the residents in the Conroe area. Every year in January, numerous churches gather at Mims for the Conroe Area Bible Conference. This is a several day event full of preaching and music to attract lost individuals and bring God's message of Salvation to those that are in need. Evangelists and Pastors from around the country come to preach the gospel and to touch the lives of those at the conference. Men such as Junior Hill, Bill Stafford, and Herb Reevis have allowed the Lord to speak His message through their sermons. In addition to great preaching, musical groups such as the Mark Trammel Trio, Greater Vision and The Booth Brothers have provided uplifting and inspirational music to each conference. Other ministries have grown since the Humble days of Mims. Those include a robust prayer ministry, a world class music ministry, an Hispanic Mission, a convalescent outreach, a children's and youth ministry as well as other ministries too numerous to mention in this article.
The history of Mims Baptist church is rich and interesting. Mims has seen many improvements to the buildings and growth of its ministries since its start at the Old Humble Oil Camp. The focus of Mims has always been to reach people for Christ. Its success is not measured in attendance, but in lives changed. You may visit a church and listen to the sermons, but if you never invite Christ in your live, then you will never experience the love and grace God has for each individual. Just as fast as things change at Mims Baptist Church, your life may end and the Lord will come in the blink of an eye.
To learn more about Mims Baptist Church please visit their website or visit them on Facebook.