/

/

Local fudge manufacturer successfully debuts on QVC shopping network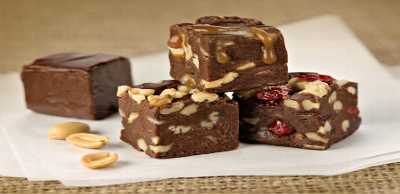 CONROE, Texas—Big Little Fudge made a big debut with their first appearance on QVC, Friday, August 24. The 2500 units allocated for the online shopping network sold out in six minutes!
On the QVC program titled "Gourmet Holiday," Big Little Fudge co-owner, Robin Strickland, and QVC host, Sharon Faetsch, successfully sold out the product almost immediately after coming on the air. The enthusiasm and energy created by the dynamic duo resulted in a sellout in one-fourth the time. A cameo appearance during the segment, by the ever-popular QVC host, David Venable, sealed the deal.
Big Little Fudge was selected to premier on QVC, with their use of premium, quality ingredients, and a melt-in-your-mouth fudge recipe. Companies chosen for this high-visibility show have approximately eight minutes to promote their product nationally, hoping to use the program as a springboard to take their business to the next level.
The "Gourmet Holiday" QVC segment, featured unique, individually-owned businesses that have differentiated themselves from competitive companies.
Big Little Fudge, which is manufactured in Montgomery, Texas, is not only sold in The Woodlands at Hubbell & Hudson, and Berings in Houston, but also the Central Market chain throughout Texas, and online with upscale department stores like Neiman-Marcus. Although already shipping product across state lines, the successful debut on QVC will no doubt, take the product to the national distribution level.
"Our 'Fudge Factor' is our big competitive advantage," said Stickland. "Our Fudge Factor is to produce a small bite of fudge with a big taste."
The big taste results from packing the small bite with a lot of flavor and crunch, which includes the following nuts: almonds, peanuts, pecans, and walnuts. Other ingredients include cranberries, coconut, marshmallows, toffee, as well as pure chocolate liquor, caramel, and a whole lot more, in a dozen different fudge varieties.
If you missed the debut of Big Little Fudge on QVC, stay tuned. They've been asked to make two more appearances before the end of the year for the holiday shopping season.
Big Little Fudge has a store front in Montgomery, Texas, for walk-in sales. For more information call 888-543-8343, or view their website.