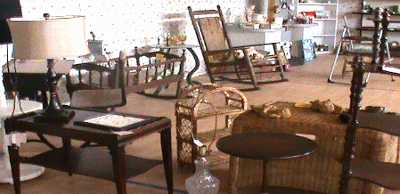 CONROE, Texas -- Like an episode from the "American Pickers," the Cut n' Shoot Tourist Trap Resale is a pickers paradise. Featuring antiques, collectibles, architectural items, and more, they have everything from heaven to amen. Unfortunately, the business needs to relocate to a different site or it will be picked to pieces.
The Cut 'n Shoot Tourist Trap will have to relocate or liquidate.
Owner, Judy Ball, said, "If you don't find it at the Cut n' Shoot Tourist Trap, they didn't make it, but I need to find another location in the Cut 'n Shoot area pretty soon, or I'll have to sell everything at auction. If I haven't found another place by October 13, then that will be the auction date."
The Tourist Trap has been at its current location, 12897 Highway 105 east of Conroe, approximately one and a half years, but not much longer. According to Ball, her partner on the lease took off with half the merchandise, leaving her to foot the rent alone. Unfortunately the landlord won't give her a break on the rent now that she's flying solo.
It's the hope of Ball that someone in the community will offer a place at affordable rent, so that she can stay in business.
"It's business like this that give a town it's local flavor," said Ball. "Rural areas need tourist attractions."
When asked if she thought the American Pickers, Mike Wolfe and Frank Fritz, of Antique Archaeology, might find their way to Cut 'n Shoot to pick through the Tourist Trap, Ball said "They better do it pretty soon, while I'm still in business."
With the help of Antique Archaeology's capable assistant, Danielle Colby Cushman, aka Danielle Diesel (her burlesque show name), she might possibly map a course to the Cut n' Shoot Tourist Trap before it's wiped off the map.
For more information call 936-264-2086 and visit their Facebook page.