/

/

Montgomery County resident wins Grand Championship at Harris County Cook-off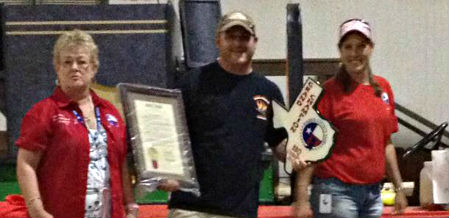 MONTGOMERY COUNTY, Texas—The winner of the Harris County Fair Cook-off is from Montgomery County. Lang "Bull" Chapman of the Wild Willis Kookers, won the coveted title by taking first place in brisket and ribs, and a third place with his bar-b-q chickens, this past weekend at the Farm and Ranch Club west of Houston.
Montgomery County resident wins Grand Championship at Harris County Cook-off
Relatively new to barbecue cook-offs, Chapman started entering competitions just five years ago, but early on he started winning regularly in one or more categories. Ironically his barbecued chickens took third place in this recent competition; his first place winnings in his earliest competitions were always with his chicken.
"On any given day, it's anybody's game at these cook-offs. It's entirely in the hands of the judges," said Chapman.
In fact, there's a long legacy in the family with barbecued chicken. Chapman's great-great maternal uncle. Ignacious Stepchinkski, would prepare his famous barbequed chickens for the Salt Grass Trail Riders and local politicians on his farm in west Houston, in what is now Gessner, north of I-10. A man Chapman never knew, but who he says could possibly be responsible for his love of barbecuing.
"They say it gets in your blood. Maybe there's more to that, than we realize," said Chapman.
Chapman is making a name for himself on the barbecue cook-off circuit. He has been featured in the National Barbecue News, a national BBQ news publication out of Douglas, Georgia.
But the coveted prize at these cook-offs is always the brisket. Chapman says it's the most difficult to prepare, and the category that usually determines the Grand Champion award. This isn't the first Grand Championship Chapman has won. Last year at the First Annual Cowboy Round Up, Jason Pelton's 'Cookin' for the Kids' barbecue cook-off in Montgomery County, Chapman won a 'Grand Slam' by taking first place in all four meat categories: brisket, ribs, pulled pork, and chicken. That was only the third time Chapman could remember someone sweeping a competition in a Texas Gulf Coast BBQ Cooker Association cook-off in the five years he had been competing. The two previous winners each won with three first places.
These charity cook-offs are generally open to the public to purchase plates or to-go orders, and reasonably priced. At this recent cook-off, barbecue plates sold for $5. Why wouldn't you want to partake of award-winning barbecue prepared by accomplished pitmasters, and help a good cause at that the same time? To find out where area cook-offs are taking place, visit the website of the Texas Gulf Coast BBQ Cooker Association.