/

/

Microsoft launches SURFACE tablet at Woodlands Mall store opening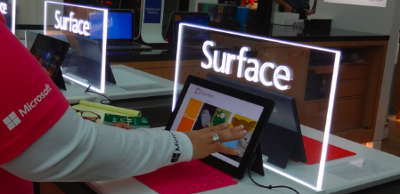 THE WOODLANDS, Texas—Microsoft's holiday store at The Woodlands Mall officially opened Friday, October 26, simultaneously with the announcement of their SURFACE tablet, and Windows 8 software. As expected, there were earlybirds waiting in line to get the first hands-on demonstration.
The SURFACE tablet comes fully-loaded; complete with the new Windows 8 software, and the Microsoft Office 13 suite. It measures 10.8 x 6.8 inches, weighs in at a mere 1.5 pounds, and it's flatter than a flitter at 0.37 in. in depth. It's actually not a tablet; it's a fully-functional laptop. The only resemblance to a tablet is the scale and the footprint.
"It's a PC in a tablet format," said Sandra Vivas, a Microsoft demonstration technician assisting customers with a hands-on demo. "It's for business and personal usage."
The SURFACE runs on Windows RT, a fusion of two different interfaces: a tile-based interface formerly referred to as "Metro," which includes the Start screen, and a traditional Windows interface called Desktop. Next year's SURFACE PRO will run on a full version of Windows 8.
The SURFACE is as aesthetic as it is functional. The vapor magnesium case has a stealth-like look. The high-resolution, detachable monitor with its magnetic clasp, has very little sunlight reflectivity. In other words, the image quality is high in bright sunlight. The menu system is gesture-driven, and the 'live tiles' (windows) provide split-screen versatility.
"Everything about the SURFACE is good, but especially the ability to open multiple screens and multi-task," said Microsoft demonstration technician, Vell Good. "This concept is referred to as 'Snap'
The revolutionary 'smooth-to-the-touch' Touch Cover has a suede-like feel, and flat keys that don't depress, allowing the fingers to glide across the keyboard with ease. The Touch Cover also comes in a variety of different colors.
"The Touch Cover provides a fast and fluid experience," said Vivas. "We're all about ensuring the best customer experience."
Additional features include a USB 2.0 port for peripherals such as a mouse, camera, phone, etc.; also a Micro-HDMI port, and a built-in kickstand, as well as the usual accoutrements: headphone jack, speakers, and a 720p-capable camera.
Pricing starts at $499 for a 32-gig without the Touch Cover. With the Touch Cover the 32-gig sells for $599, and the 64-gig for $699.
There are only two locations in the Greater Houston area to demo and purchase the SURFACE tablet, the Galleria's brick-and-mortar customer service center, and The Woodlands Mall's holiday pop-up store. To find another Microsoft store you'll have to travel north to Dallas. But the Microsoft team assured shoppers that they are well-positioned to support the demand.