/

/

DPS reports high number of vehicle fatalities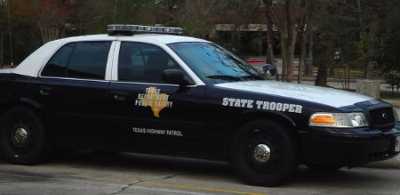 MONTGOMERY COUNTY, Texas – The Department of Public Safety was in a mad calf scramble to cover the number of fatality accidents in what has become one of the deadliest holiday weeks in Montgomery County in some time.
It started with the death of a 19-year-old Texas A&M student, Chandler Renee Small of Montgomery, who died while texting on her mobile phone just after 3 a.m., Wednesday morning, December 19. The Department of Public Safety said her 2010 Ford F-250 pickup veered off the road at a high rate of speed, turning over several times after hitting a culvert. Although wearing a seatbelt, Small died at the scene. The accident occurred near the Walker-Grimes county line.
Then on December 23, just prior to 2 a.m., the DPS said a 2000 Dodge Ram 1500 was traveling at an unsafe speed and failed to navigate a curve on Keenan Cutoff Road near Lake Shore Drive. The truck driven by David Everett Wiggins, 18, of 24902 Country Oaks Blvd in Montgomery, left the roadway and struck a steel utility pole dropping power lines down on the vehicle. PHI Air Medical was dispatched but it took Montgomery Fire crews over one hour to free the victims. Unfortunately passenger, Benjamin Cody Brown, 17, of 27116 Sandy Creek in Magnolia, died at the scene. The driver, Wiggins, and passenger, Sean Michael Fontenot, 17, of 27034 Nichols Sawmill Road, were transported to area hospitals in stable condition.
DPS Troopers determined that alcohol was a factor in the crash upon learning, after interviewing Wiggins, that he left a party at the home of Diane Kinsey. Chief Vehicular Crimes Prosecutor, Warren Diepraam, warns that serving alcohol to a person under 21 is a crime and also may involve civil liability. The investigation is ongoing. Any witnesses to the crash, or anyone with information about the party, are asked to contact the DPS or the District Attorney's Office. This is the third crash in Montgomery County in recent months where under- age drinking resulted in fatalities.
Less than 24 hours after that fatal accident, the DPS reported that shortly after midnight Monday, December 24, a pickup truck driven by Natasha Rose White of Conroe, left the roadway in the 700 block of Whiporwill just north of SH 105, swerving across oncoming lanes hitting a culvert then going airborne. The 1998 Chevrolet truck then went through a fence and struck a tree uprooting it, at which time the truck began flipping over. The Cut and Shoot Fire Department and Montgomery County Hospital District were dispatched, and found the driver, a 25-year old female, had been ejected and was in critical condition. The passenger, Jennifer Lynn Arteaga, 25, also of Conroe, had minor injuries.
The driver was transported to Conroe Regional Hospital where she was pronounced dead on arrival by Doctor Dalton. Several 12-packs in the vehicle and a beer can debris field was indicative of an alcohol-related crash but is not yet determined. White was transported for autopsy to the Forensic Center by Eikenhorst Funeral Directors.
"The holiday season has been keeping us awfully busy," said Department of Public Safety spokesperson, Trooper Erik Burse, "and we have another holiday weekend to go."
Both the DPS and the Montgomery County Sheriff's Office have increased their presence on the roadways to try and round up motorists driving under the influence. Party-goers are encouraged to use shuttle services and taxis, in order to arrive home safely. Report any unsafe driving to authorities so that others may arrive home safely too.