/

/

Einstein Bros. Bagels opens two Montgomery County locations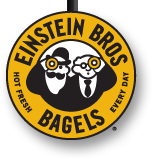 CONROE, Texas – The newest addition to the breakfast market in Conroe is Einstein Bros. Bagels, located at 2121 W. Davis Street. A wide assortment of bagels are offered, which includes gourmet toppings and bagel sandwiches, and also paninis and sweets. In addition to coffee and Espresso, other specialty drinks include iced coffee, frozen lattes, and fruit smoothies.
The bagel and coffee chain was originally created 1995, to offer breakfast foods, and is now a fully-owned subsidiary of the Einstein Noah Restaurant Group, Inc. This new Conroe site which opened on December 19, and another at 3375 College Park Drive that opened on December 12, bring the number of national locations to 773.
"People are beginning to notice we're here, and we're now seeing repeat business," said Assistant Manager, Laura Garlinger,
Catering is one of the value-added services also provided by Einstein Bros. Bagels.