/

/

2013 Montgomery County Fair BBQ cook-off winners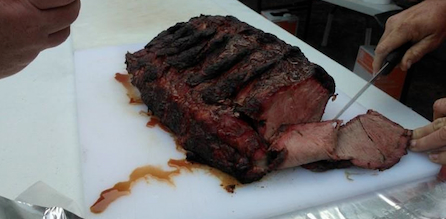 CONROE, Texas -- The results have been consumed and the winners announced from the 56th Annual Montgomery County Fair BBQ Cook-off. The Grand Championship went to Don Canterbury's 'We B Smokin' cook-off team for their champion ribs and first runner-up with their chicken. Taking the championship in brisket and second runner-up in pork was Brian Wells 'Triple A Cookers' cook-off team. The results are as follows:
Grand Champion: We B Smokin - Don Canterbury
Brisket: Champion - Triple A Cookers - Brian Wells; 1st Runner-Up - Dillers Dobbers, Grover Hodges; 2nd Runner-Up - Mad Hatters & Wildcatters - Glenn Holliday
Ribs: Champion - We B Smokin - Don Canterbury; 1st Runner-Up - Just Inside The Border - Andy Mendiola; 2nd Runner-Up - Kickin Ash Cookers - James Solomon
Chicken: Champion - The Gamblers - Randy Sparks; 1st Runner-Up - We B Smokin - Don Canterbury; 2nd Runner-Up - Road Kill CHefs - Al Jordan
Pork: Champion - Hey Boys BBQ - Donald Winford; 1st Runner-Up - Murphey's Monsters - Ray Murphy; 2nd Runner-Up - Triple A Cookers - Brian Wells
Most Imaginative Team: Friends and Company - Chad Kirby
Most Colorful Team: Texan Hog Riders - David Moore
Most Congenial Team: The Young Guns - Matt Whitney
Best Dressed Port-A-Can: 1st Place - Choice Cookers - Marlon Castleschouldt; 2nd Place - Texan Hawg Riders - David Moore
"We want the community to come out and enjoy some great bar-b-q and have a great time," said Scott Golman, Lifetime Executive Committee member.
New to the Montgomery County Fair cook-off, but not new to bar-b-q competitions, Lang "Bull" Chapman and his Wild Willis Kookers took fifth place in brisket, ribs, and chicken out of 122 teams. Cooking for the K-Star (99.7 FM) radio station's spot, Chapman summed up the experience.
"Everybody was very welcoming as they all know everybody who should be there," said Chapman. "Getting the calls that I got brought a lot of respect from me, for everybody else." Attendees with hearty appetites came out in volume to the cook-off competition and were the big winners, having the opportunity to sample the best bar-b-q and fixins in the county.
For more information about the Montgomery County Fair & Rodeo, visit the link provided.