/

/

Mama J's BBQ and Grill opens new location to rave reviews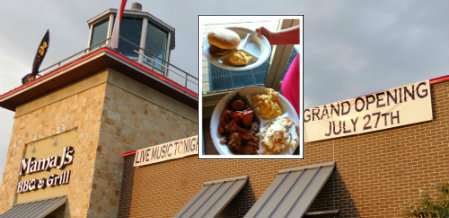 MONTGOMERY COUNTY, Texas -- Mama J's celebrated their grand opening, Saturday, July 17, one month to the day that they opened their new location at 26710 I-45N in Oak Ridge North, previously the Sam's Boat, then Rebels, location.
In response to the question about selecting a location with a history of attrition…
"Right location, probably the wrong businesses," said Papa J, John Janousek, pronounced 'Ja-new-sick,' but the reason the restaurant was named Maa J's. "Our location is family-friendly, and appeals to a wide variety of patrons."
The early crowd appeared to be the senior set, with Generation X arriving later to eat and enjoy the live entertainment. Melt-in-your-mouth brisket, and their own secret barbeque sauce, has enabled Mama J's distinguish itself from other barbeque restaurants. Their good ol' home-style cooking includes a wide variety of sides including everyone's favorite cheesy potatoes, as well as sweet potato fries, corn on the cob, mac n' cheese, collard greens, to name a few. But it's their meats that Mama J's takes pride in preparing, slow smoking their brisket and baby back ribs over Mesquite, in addition to pulled pork and Southern fried chicken.
Arriving in time to catch the show, Carolyn Gerken, owner of A-Plus Services/A-Plus Realty, and her husband, Mark, residents of Oak Ridge North.
"I wanted to try Mama J's. I've heard good things about it, so for date night my husband and I decided to try it out," said Gerken. "It's close by; we can get there in 5 minutes or less." Asked to be seated on the outdoor patio, the Gerkens had nothing but favorable comments about the service.
"We were immediately greeted by our server, who offered great suggestions when we asked for recommendations," said Gerken. "He recommended that I try "Mickey's Mean Green Chile Burger," a hamburger on a bun, smothered with peppers and pepper jack cheese. It was mouth watering."
Husband, Mark, ordered a traditional BBQ sandwich, and said was delicious. Originally a catering-only business, it was by popular demand that the Janousek family decided to open a restaurant; the original site was on SH 242. The business grew and expansion was essential. The new location on a major artery, I-45N, at one of the busiest intersections in Montgomery County, comes complete with an outdoor patio, and an aesthetic setting including fountains and a beautiful view of The Woodlands. Little retrofitting was required, the addition of television sets, a new name and menu.
"We're a family-owned business, so we're family first, family friendly," said Papa J. "We always envisioned a family restaurant, and once we perfected out product, we started catering with the intent of growing the family's business to add a restaurant."
Family involvement includes the Janousek's twins, Megan and Michael, who have just transferred to Sam Houston State, in order to help run the family's restaurant. Both help with running the day-to-day operation and on site customer service. The family is committed to giving back to the community and has demonstrated their commitment by sponsoring the catering for the Leukemia, Light the Night Walk, the Montgomery County Friendship Center's Prom Night, school functions, and more.
The new 12,000 ft location (almost five times the size of the original location) with its larger kitchen, enables the family to contribute in a bigger way, not only to their philanthropic causes, but by providing a 'unique and positive experience with great food at very reasonable prices,' to the masses, according to Papa J. The experience includes a mechanical bull, a dance floor, and live entertainment. Mama J's is the home of the Country and Western duet of Brade and Hurst…the local singer/songwriting duo just back from Nashville, appearing around H-town. Their set list includes their original material and covers from C&W legends.
"There just aren't that many country and western duets at the present time," said Allison Hurst, mother of Cassidy Hurst. "She and Chris (Brade) are in good position to be the next big duet act."
Hurst attended Magnolia High and currently lives in Montgomery; Chris is residing in Conroe. They're hoping their local roots will bring the public out to their home base to hear and support their music. Even other local musicians dropped by to enjoy their show; great barbecue was an added draw.
"My husband's a musician, and said Brade and Hurst and their band, were very professional, said Gerken. "The overall experience was excellent. I would give them an A-Plus, and will be back again soon." Restaurant hours are: Tuesday-Thursday 11 a.m.-10 p.m.; Friday & Saturday: 11a.m.- midnight; Sunday 12 p.m. - 7 p.m. Closed Mondays and Christmas Day. Live music is played Thursday, Friday, and Saturday. Wednesday is Karaoke: kids 6-7 p.m.; adults 7-10 p.m.
For more information call, email, or go to their website to view the menu, order take-out or catering, by clicking onMama J's BBQ and Grill