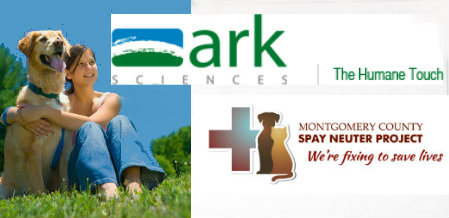 MONTGOMERY COUNTY, Texas -- Montgomery County residents can have their male dogs between 3 and 10 months of age sterilized or "Zeutered" at no cost on Sunday November 24, thanks to a partnership between Montgomery County Spay Neuter Project, Texas Litter Control, Ark Charities, and Precinct 4 Commissioner, Ed Rinehart. The "Zeuter" event will be held November 24 from 8:30 a.m. to 3:00 p.m. at Sallas Park Show Barn 21675-C McClesky Rd, New Caney, TX 77357.
Event to be held at Montgomery County Show Barn
"Zeutering" (using Zeuterin™) is an FDA approved, non-surgical procedure that renders male dogs sterile and is safe, effective and permanent. To learn more about the Zeutering procedure, go to Ark Sciences
"We're pleased to be working with Texas Litter Control and Ark Charities in this effort to address our pet population problem in East Montgomery County" said Nancy Richards, President of Montgomery County Spay Neuter Project.
The Zeuterin procedure for male dogs between 3 to 10 months and rabies vaccination are free to the public, however, donations are appreciated. Expenses are underwritten by the Montgomery County Spay Neuter Project and Ark Charities. The suggested donation is $10. All proceeds will go towards the cost of future low and no cost sterilization days in Montgomery County. Donations can be made to Montgomery County Spay Neuter Project, PO Box 130211, The Woodlands, TX, 77393 or online at www.mcsnp.org
"We pleased to offer Texas Litter Control and the Montgomery County Spay Neuter Project this affordable way to sterilize their male dogs," said Anne Bolzoni, Executive Director of Ark Charities, Inc. Ark Charities is the non-profit arm of Ark Sciences, Inc., the makers of Zeuterin™, the product used in the Zeutering procedure. "We believe Zeuterin™ provides another tool that will help lower pet overpopulation and hence reduce needless euthanasia of adoptable animals," Anne added.
Dog owners who want to have their dog Zeutered during the Nov 24, 2013 event are asked to contact Texas Litter Control at 832-510-7622 to schedule an appointment. This program is limited to the first 50 dogs. Appointments are Required!
The Zeuterin procedure is also offered at the Texas Litter Control Clinic. Visit Texas litter Control for a list of prices.
Texas Litter Control is a not for profit, low cost spay/neuter and wellness clinic for cats and dogs. TLC is open Monday through Saturday by appointment for surgery and from 9am to 3pm Thursday through Saturday or vaccinations wellness services. The TLC clinic could not exist without the generosity of Petroleum Wholesale. Petroleum Wholesale provides the space for TLC clinic as a service to the community. The clinic is located adjacent to Petroleum Wholesale's Texaco station at the Rayford/Sawdust exit on the west side of Interstate 45 just south of the Woodlands at 150 Pruitt Road #H, Spring 77380. Petroleum Wholesale has been supporting the rescue of dogs and other companion animals for nearly two decades.
The Montgomery County Spay Neuter Project is a local not for profit organization that fundraises and provides affordable spay neuter services to residents of Montgomery and surrounding counties.