/

/

Texas Torque opens the 87th Macy's Day Parade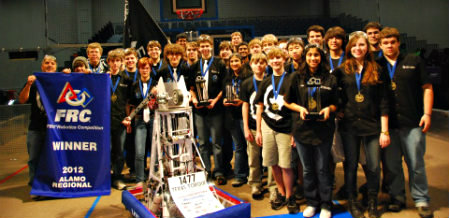 MONTGOMERY COUNTY, Texas -- Texas Torque Robotics Team will have the honor, along with four other award-winning teams from across the United States, of opening the 87th Annual Macy's Thanksgiving Day Parade on November 28, 2013 in New York City. Texas Torque, which is made up of students from The Academy of Science and Technology, College Park High School, The Woodlands High School, and Oak Ridge High School, was part of a three-team alliance that won the World Champion title at the For Inspiration and Recognition of Science and Technology (FIRST) Robotics World Championship in May of this year.
For nearly a century, Macy's Thanksgiving Day Parade has been the official kick-off to the holiday season. Every year, this Emmy Award winning tradition is seen by more than 3.5 million people in New York and 50 million people at home, all tuned in to see giant balloons, one-of-a-kind floats, and now – robots!
The robots leading the 2013 Macy's Thanksgiving Day Parade were designed and built for the 2013 FIRST Robotics Competition season challenge, and have been modified by the students to perform tasks specifically for the parade. Texas Torque's robot, "SONIC," will cut the ribbon to signal the official start of the parade. Following the ribbon cutting, the other teams' robots will shoot confetti along the parade route. Students will then drive their 12v battery-operated, 150-pound robots down the entire 2.5 mile stretch, ending at Macy's Herald Square.
We are extremely excited and thankful for this unique opportunity that Macy's has given us," said FIRST Founder, Dean Kamen. "Tuning into the Macy's Thanksgiving Day Parade is an American tradition, and this year the first thing people will see in the parade is FIRST. Thanks to Macy's, we have the chance to pique the curiosity of millions of young people, as well as potential mentors, sponsors, and volunteers."
Award-winning FIRST Robotics Competition teams leading the 2013 Macy's Thanksgiving Day Parade include: Team 1538, "The Holy Cows", from San Diego, CA; Team 1477, "Texas Torque", from The Woodlands, TX; Team 180, S.P.A.M., from Stuart, FL; Team 16, "The Bomb Squad", from Mountain Home, AK; and Team 25, "Raider Robotix", from North Brunswick, NJ. Southwest Airlines is the Official Air Travel Sponsor for this special appearance by FIRST teams, providing nearly $14,000 in round-trip air vouchers for the student participants and their adult mentors. The teams' robots will also travel for free thanks to complimentary roundtrip shipments from FIRST Strategic Partner, FedEx.
The 87th Annual Macy's Thanksgiving Parade will be aired live from New York City on November 28, 2013 beginning at 9 a.m. ET on NBC.