/

/

Papa Murphy's Pizza in Conroe upset with TNT Waste for dumping trash in parking lot
Papa Murphy's Pizza in Conroe upset with TNT Waste for dumping trash in parking lot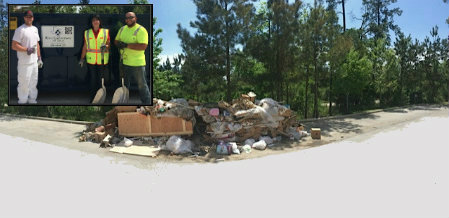 CONROE, Texas -- Papa Murphy's Pizza in Conroe is upset with TNT Waste for emptying the contents of a dumpster in the front of their restaurant, when TNT Waste was asked to remove the container from the property. When TNT couldn't collect back rent on a previous landlord's outstanding account, the contents of the container were dumped on the parking lot.
Bohlig stated that there were no identifying marks on the dumpster. He contacted the manufacturer of the container in Louisiana, and enlisted the services of the construction management team finishing out his buildout, to try and located the owner, but all efforts were in vain. He eventually received a call from TNT Waste who wanted three months past due rental on the dumpster before removing it, trying to collect approximately $900 incurred by the previous business owner.
Bohlig offered to pay $400 for the time he took ownership of the business, but TNT Waste owner, "Travis," told him the best he would do was take 14 days off, and if Bohlig didn't want to accept his counter offer he would..."Come and get my property, and whatever isn't my property, I'll just leave it where it is."
"I asked him if he meant he was going to dump the contents out in the parking lot," said Bohlig, "and he replied, "Yes."'
On the morning of Friday, April 11, Bohling arrived at work to find the entire contents of the container dumped in the front parking lot of the restaurant.
"Not only was this not an eco-friendly thing to do, the Children's Learning Adventure Center playground is approximately 20-30 yards away, creating an environmental and health hazard," said Bohlig.
Between 300-350 children attend the preschool and kindergarten daily.
Bohlig filed a police report with the Montgomery County Sheriff's Office. Deputy Runnels came out to the site and took a statement. Bohlig is pending word from the District Attorney's office on whether Felony Illegal Dumping charges will be filed against TNT Waste.
"I then spoke with the General Manager, Jason Zett, and he was so helpful," said Bohlig. " He volunteered to send a truck with a crew out immediately to clean it up at no cost. They re-routed a truck to our store and were cleaning up TNT Waste's mess within an hour of my call. They should be recognized for their amazing customer service and for their dedication to ensuring that Montgomery County stays clean and beautiful."
Bohlig asked that Waste Connections be recognized for coming to his assistance. Conroe Today was more than happy to comply.