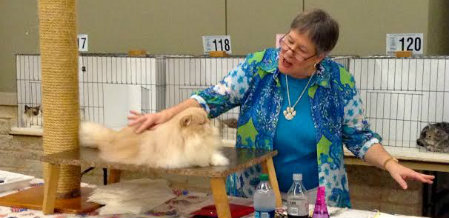 CONROE, Texas - The Stars and Stripes Cat Club hosted a cat show on Saturday May 31st, located at The Lone Star Expo Center in Conroe. The room was filled with what sounded like the jingle from the Meow Mix commercials double time, as cats filled the large space from the fluffiest persian to the naked sphynx.
Owners set up booths where the cats were held in decorated carriers of ribbons or pictures, and then took their contestants out to stretch and be groomed. The grooming process included brushing, filing of claws, and even make-up. Yes, some cats received the complete package of hair care, manicures and pedicures, and a make-over. The cats were obviously used to this kind of treatment, because they barely moved while their owners proceeded with this routine and some even closed their eyes and seemed to enjoy it. Each competitor had their own system and all the cats glowed from a perfect grooming. Even a flea wouldn't touch such a masterpiece, like a painting in a museum.
Carol Hale, a veteran in the Cat Show field, gave some advice on the topic of grooming a possible winner.
"Most of your cats need a bath," said Hale. "Their toenails need to be cut and their ears cleaned. If they are a long hair, they need a little bit of extra attention and grooming. If you groom your long hair after you've bathed them with a dryer or hand dry, it helps if you use a little bit of liquid starch and some water and slop it on their belly and not rinse it off, and comb them as you dry them; it'll keep the kinks out."
Hale has been participating and working cat shows since 1975. She started out with persians then sphynx along with exotic short hairs, and is now showing American short hairs. She has not only been showing cats, but also helping with the shows and a few clubs working as a show manager, treasurer of two clubs, a gate manager, and a secretary of two different clubs as well.
Saturday, she had a couple of cats to show and also helped to run a raffle table. This raffle wasn't for anything in particular, but Hale commented that usually proceeds from raffles go towards helping cat shelters. Along with the raffle, there were also a couple of vendors selling cat toys and treats and a man known as Cat Tree Steve from Fandango Cat Furniture, sold stands that actually looked like trees for the cats to climb on and relax.
After having observed a variety of owners, it was clear that the event was a casual one. Many competitors greeted one another as old friends and chatted, while they waited for their category to be called.
When asked why she loved cat shows, Tracy Whittenberg, another regular of competition who showed Maine coons replied, "To see all the different cats and the camaraderie because the people here are just wonderful. People will talk to you if you have questions, they're here to talk about the cats and about the cat fancy itself."
Several celebrities were among the cat show. Angelina Jolie, Barack Obama, Sheldon Cooper, Katniss Everdeen, and even Marilyn Monroe and Lucille Ball made appearances; the cat versions of themselves anyway. These are the names of some of the contestants and some were even named like Kentucky derby horses. Such as Such Sweet Lovin', a chocolate classic tabby in white owned by Teresa Schroeder or Symphony of Destruction who is a persian owned by Tracy Bayarena named after a Megadeth song. Other cats had names to match their personalities or even a feature on their tail such as Crank It, a silver classic tabby owned by Carol Hale, whose tail resembles that of a crank on a machine.
So this is how the process worked; there were six rings that each constituted a show. A judge at each ring called the cats up by designated numbers to the ring and the cats were displayed one by one, much like a beauty contest, to be judged on. There were three different categories in the competition. Kittens, Championship which is where the cats haven't been neutered or spayed, and Premiership where they have been. Each cat was competing to earn points and titles; the more points accumulated the closer to the titles. All to be scored for Cat Fanciers' Association's National and Regional awards.
Pam Bassett, a judge for five years, was asked about the process she used to pick the winners for the different categories. "In the household cat category I look for condition, having fun, wanting to come out and play, just overall good care." Basset also ran a feather up a large scratching post and waited for each cat to claw up after the feather. "The post we use to let the cats run up to kind of exercise themselves and also to let us get a good look at them naturally climbing and stretching their body, showing us their pattern and color and all those things we can see when they jump up that pole."
She awarded first place to a silver tabby in one section and was asked why that particular cat received the highest score. "Oh, the silver tabby had a beautiful pattern! Very good condition, the feel of the cat, the condition of the coat, as well as when I put that cat on the table it came alive. He just went up that post, followed my lead with my feather like he was trained. I just thought he had excellent qualities as well as the ability to perform and showoff and he showed himself off to me and the audience."
Tracy Bayanera, knows all about being a champion. A competitor since 2000 one of her persians, Symphony of Destruction, is working on her Grand of Distinction title. It is the second highest title below National. A blue cream colored persian, Symphony, is nine years old and a diva of the competition. Tracy is the only one who can carry her to the ring, because the beauty can be temperamental at times. She also owns Polaris a male persian, and her youngest persian is one of the celebrities Angelina Jolie. When asked about her process for grooming Bayanera stated that she gives her cats a bath that, "takes about an hour and a half to two hours; bathing, degreasing, and also blowing them dry."
The whole day was enjoyed by young and old. Couples often worked together to win, while even some mother and daughter teams entered; bonding as they got their pet ready. It was an interesting and adorable sight to see with all the kittens playing, the older cats working their own "catwalks", and the owners just having a ball coming together for their love of these beautiful companions.