/

/

Dunkin' Donuts celebrates Grand Opening in Conroe July 8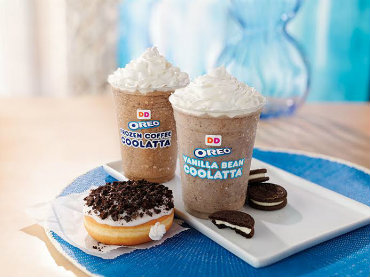 CONROE, Texas -- Dunkin' Donuts, America's all-day, everyday stop for coffee and baked goods, continues to expand its Houston area presence, today announcing its next Grand Opening will be in Conroe, Texas. Conroe and northwest Houston area coffee lovers are invited to the July 8th Grand Opening of the new Dunkin' Donuts restaurant located at 800 N. Loop 336 W, Conroe, TX 77301, beginning at 9:00 am. In celebration of the Grand Opening, selected local schools and area non-profits will have the chance to compete in a "Dunkin' Cups for Charity" cup stacking competition at 9:30 am. Participating organizations include the Conroe Chamber of Commerce,Montgomery County Emergency Assistance and the Montgomery County Food Bank.
Dunkin' Donuts now also offers OREO® Donuts and Coolattas during summer.
The new restaurant will be open from 5:00 am – 11:00 pm, 7 days a week and will employ approximately 30 crew members, serving up Dunkin' Donuts internationally recognized coffee, lattes, donuts and bakery goods. All members of the community are welcome to attend the Grand Opening on July 8 and enjoy free medium coffees, other beverage samples, contest, VIP ribbon-cutting, prize giveaways, and the newest Dunkin' Donutsmenu offerings. Come by and meet mascot "Cuppy" and sample some DDelicious flavors! Now that summer is here, Dunkin' Donuts is celebrating the season with a special selection of new and returning menu items. To add a little sweetness to summer in Houston, Dunkin' Donuts is bringing back two popular OREO® cookie inspired donuts. The OREO® Donutfeatures a yeast ring donut frosted in white icing and topped with OREO® cookie pieces; while the OREO® CREME Donut is a yeast donut, filled with vanilla flavored buttercreme, frosted in white icing and topped with OREO® cookie pieces.
For another cool twist on the classic OREO® Cookie, Dunkin' Donuts is also offering OREO® Frozen Coffee and OREO® Vanilla Bean Coolattas through the summer months along with other cool flavors available now at participating Dunkin' Donuts restaurants nationwide through the summer months: Arnold Palmer® Coolatta, Watermelon Coolatta, Blue Raspberry Coolatta, Strawberry Coolatta, Minute Maid® Orange Coolatta, Frozen Mocha Coffee Coolatta and the Frozen Caramel Coffee Coolatta. Guests can enjoy small Coolatta beverages in any variety for just $1.99 throughout the month.
All of Dunkin' Donuts' newest menu items are available for a limited time at participating Dunkin' Donuts restaurants nationwide.