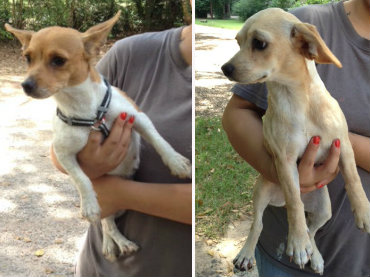 CONROE, Texas -- Conroe Today is launching a pet project...our effort to try and find 'fur-ever' homes for wonderful dogs and cats that will make great pets. Our first offering is a two-for-one special, two Chihuahuas instead of one.
The pair were pulled from a ditch near SH242, just east of Old Houston Road near FM 1485. Signs were placed, but no one responded. They were taken to the Humane Society of Montgomery County's 'Ruff House,' until a suitable home can be provided for them.
Although they could be placed in separate homes, they appear to be related and are best buds, so it would be a shame to separate them. Together, you can have twice the fun with them.
The dogs appear to be a Chihuahua mix. They're small, so they're portable! Since no one knows their names, you have the privilege of naming them. Call them Frick and Frack, Yin and Yang, whatever you like. We're sure they won't mind, as long as they have a loving home. Conroe Today was not provided with their genders, but we'll try and obtain that information, or you can call the Ruff House at 936-231-4762, for more information. Don't pass on this opportunity to get a two-fer that enrich your life, and provide some wonderful dogs with a home.