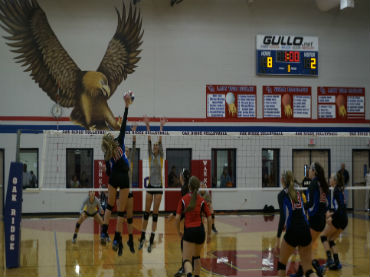 OAK RIDGE, Texas -- The Oak Ridge Lady War Eagles needed only 55 minutes and three games to defeat the arch-rival Conroe Tigerettes in a District 16-6A volleyball match Tuesday night at Oak Ridge High School.
The 25-17, 25-9, 25-14 victory moved the Lady War Eagles to 22-3 overall and a perfect 2-0 in district play. Oak Ridge, which is picked to challenge The Woodlands and College Park for the conference crown, opened league play with a 3-0 win over Kingwood.
Conroe, which was simply giving up too much size at the net, dropped to 0-2 in district action. The Tigerettes opened district action with a three-game loss to the defending state- champion Woodlands Lady Highlanders.
Conroe, behind the spirited play of Jules Vitela and Aubrey Ireland, looked like it was going to make a match of things in the first game.
The game was tied at 11-11, 13-all and 14-14 before Oak Ridge took control of the contest behind the net play of Victoria Harris, Brooke Clark and Lacye Neeley.
Back-row specialist Morgan McCoy also came up with a thundering spike from the back line as Oak Ridge scored 10 of the game's final 12 points to coast to victory.
The momentum carried over to the second game as Oak Ridge jumped out to leads of 6-0 and 16-3 before settling for the 25-9 victory.
The Lady War Eagles' front line, comprised of Harris, Clark and freshman Carly Graham, averages 6-foot across and will present any district foe with plenty of problems.
The Lady War Eagles also took a 20-4 lead in game three before head coach Tommie Lynne Sledge elected to empty her bench.
Conroe, behind the play of Jasmine Heine and Ireland, cut the lead to 23-14 before Neeley spiked home a winner and Raigen Cianciulli served an ace to finish the match. Rhyan Johnson also had a kill and Summer Buck had some pinpoint passes from the back row.
Oak Ridge, which has not lost a match outside of a tournament, will try and move to 3-0 in league play when it travels to meet Atascocita in a 16-6A match at 5:30 p.m. Friday.
Conroe, which has a bye on Friday, will travel to meet Kingwood at 5:30 p.m. Tuesday.