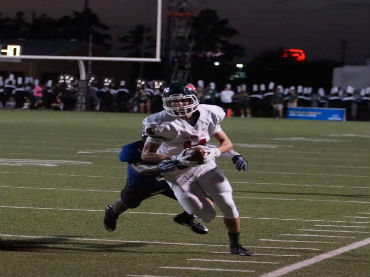 Week six of the high school football season kicks off Friday and runs through Saturday for local teams, as they play they continue to soldier on through district play.
The Oak Ridge War Eagles (4-1, 1-0) vs. Conroe Tigers (3-2, 0-1)
Next Up: The War Eagles play host to the Conroe Tigers at Woodforest Bank Stadium at 7:30 p.m. on Friday, October 3rd.. This game will be broadcast OnDemand at woodlandsonline.com.
Last Week: Oak Ridge had a thrilling come-from-behind victory on the road against the Kingwood Mustangs, 30-26, to open district play. Conroe fell in it's opener to The Woodlands, 51-3.
What to Watch For: Explosive plays. Oak Ridge has 18 touchdowns that went for longer than 20 yards this season. Conroe has 11 touchdowns that were longer than 20 yards this season. Both teams like to score quick and often, so expect some fireworks in this contest.
Analysis:Conroe came into district flying high, going 3-1 and scoring 200 points against non-district foes. Last week they took on The Woodlands in their first district game and stumbled, losing 51-3. Oak Ridge started the season slow, scoring three points through most of three quarters against Morton Ranch before turning it on. The War Eagles have levied 178 points against their opponents over the last four weeks, going 3-1 in that time span. Points will be flying in this one, but based on the talent of opponents and chemistry level, Oak Ridge has to be favored in this one. If Conroe can get a turnover or two to slow down the War Eagle attack, the game could be close late.
The Woodlands Highlanders (4-1, 1-0) vs. Atascocita Eagles (5-0, 1-0)
Next Up: The Highlanders take on the undefeated Atascocita Eagles at Woodforest Bank Stadium on Saturday, October 4th at 6pm. This game will be LIVE at woodlandsonline.com: http://www.woodlandsonline.com/sports/live/streamEvent.cfm?streamid=75
Last Week: The Highlanders continued their run of good play by dismantling the Conroe Tigers 51-3 on the road, while the Eagles took care of business against College Park, 46-21, at Woodforest Bank Stadium.
What to Watch For: Defensive dominance. The Woodlands has allowed 13 points over their last three games (4.3 points/game), and no more than 14 in any game. Some of those games include powerhouse Cy-Fair (9 points) and Katy (7 points). The Eagles haven't given up more than 21 points in a game, and none more than ten until last week against College Park.
Analysis: This game will be a slugfest. The Woodlands has an offensive line that's got continuity, a top running back in Patrick Carr, and a quarterback in Matt Bonaguidi who is clicking on all cylinders. The Eagles have a dynamic dual threat quarterback in Niyl Campbell (765 yards passing, 333 rushing), and lots of options for him to choose from: Quan Shorts, Tyvonne Thompson, and Tre Hamilton all have over 200 yards receiving, and running back Patrick Taylor jr. has over 400 yards rushing (with six rushing touchdowns, five receiving scores). As stated above, the defenses don't give up points either, so this game is about who can impose their will and wear down the other. Look for a back-and-forth tilt, where the stamina and conditioning in the fourth quarter may play a factor in who walks out the victor in this contest.