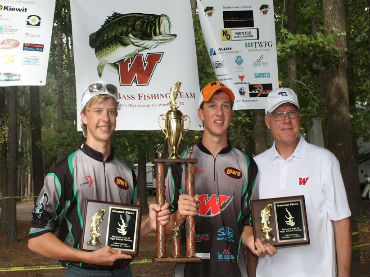 CONROE, Texas- The HHFC's (Houston Area High School Fishing Conference) first tournament of the year went off without a hitch this past Saturday on Lake Conroe as six schools were represented.
The Woodlands high school math teacher, Henry Burns wears many hats as he is the President of the HHFC as well as the coach/advisor/booster club president for TWHS-BFT (The Woodlands High School Bass Fishing team). See the Q&A below with Burns to learn all about HHFC and how this already popular school club sport came to be.
Burns was overjoyed with how the tournament at Lake Conroe went.
"The Tournament was very smooth! Many of the boat captains from all of the schools mentioned that this was the smoothest tournament that they have ever been involved in which was music to our ears as we put a lot into it to make sure it went off well. We couldn't have pulled it off without the support of The Woodlands high school Principal, Gregg Colschen. Splendora's first place team bag was tough to beat and all of the schools involved were well represented. It's a great start and we are so proud we put this together. One thing we do differently than other tournament programs is we give a club a trophy for finishing first through third as we believe the awards will help develop team pride."
The big bass of the tournament was caught by Splendora's Chris Talley at 6.98.
Here are the results from today's Bass Fishing Tournament at Lake Conroe:
| | | | | | | | |
| --- | --- | --- | --- | --- | --- | --- | --- |
| School | First Angler | Second Angler | Chip # | Bag Size | Penalties | Net Bag | HHF Points |
| Splendora | Chris Talley | Stephen Davis | 10 | 19.50 | 0 | 19.50 | 100 |
| TWHS | Connor Whisenant | Grant Davis | 17 | 13.85 | 0 | 13.85 | 99 |
| College Park | Joe Beebee | Franco Carbonbe | 4 | 12.53 | 0 | 12.53 | 98 |
| College Park | Chad Mrazek | Josh Mrazek | 22 | 12.08 | 0 | 12.08 | 97 |
| College Park | Michael Mahony | Braxton Benoit | 26 | 11.13 | 0 | 11.13 | 96 |
| Kingwood | Tucker Garrett | Alex Carter | 20 | 10.82 | 0 | 10.82 | 95 |
| Montgomery | Justin Faterkowski | Seth Hardin | 16 | 9.05 | 0 | 9.05 | 94 |
| TWHS | Ryan Bentley | Hayes Strickland | 21 | 8.70 | 0 | 8.70 | 93 |
| College Park | Mark Giles | Branden Giles | 8 | 8.88 | 1 | 7.88 | 92 |
| Montgomery | Clint Davis | Jordan Swain | 19 | 7.58 | 0 | 7.58 | 91 |
| TWHS | Hugh Cosculluela | Eddie Yao | 2 | 6.81 | 0 | 6.81 | 90 |
Q&A with Coach Burns

1) What is the name of the Texas HS fishing body/conference?
Houston Area of High School Fishing Conference and we are in our second year as we started September 30, 2013. I am the president and tournament coordinator of HHFC. Vice President is Russell Traylor from Kingwood.
2) How many schools have a team in Texas?
TWHS, College Park, Splendora, Kingwood, Montgomery and Livingston. In all, the tournament will be comprised of 33 boat teams from these six schools.
3) Describe the tournament's rules/format?
The main rules are fishing hours 7-3, artificial lures, anglers catch own fish, compete, have a good time, and be safe. Two anglers from 7th-12th grade and one boat captain 21 or older. The official rules set forth by the organization are here. Click on link to see rules here
4) How do you combat creative measuring?
Lakes have specific measurements so there is no working around it. This is a "community" fishing event. There is NO living down cheating. It will carry with an individual at any level. There needs to be a level of trust educating anglers about the process. I let my anglers know that TWHS has no flexibility for cheating. Personally, for our organization, I do not want to win this way. All fish are brought in and weighed by a judge.
5) Is your home field Lake Conroe?
Yes, it is the closest no doubt and our anglers have been preparing for this the last five months.
6) Safety issues/ Precautions?
The tournament is directed in a safe way. There are boat checks in the morning for navigation lights and life jackets. We have traffic control in the morning and the individual schools have pre-tourney meetings. We are proactive about standard tournament issues.
7) Is there such a thing as home field advantage?
Yes, if you fish the area enough you are familiar with fish patterns, tendencies and where to find them. Local knowledge helps!
8) What is your fishing background?
I've fished since I was three and developed a passion for angling right away. I love being outdoors and fishing with others. When I was younger, I fished mainly for bass, catfish, and northern pike. Over the last fifteen years I have mainly fished saltwater and my target species is speckled trout. Also, I am a catch and release fisherman.
9) Who is your fishing inspiration?
I owe my passion for the sport to my dad. It was a great feeling putting a game plan together. Now, I really enjoying hammering fish with my son, Seth. It's a family tradition
10) How and why did you start a team?
Initially, I had students come up to me with the idea. We started with 13-15 kids and it has blossomed into 93 anglers. I am also part of a program called Fishing's Future. In this program we (with the help of TWHS BFT) teach young anglers the basics of fishing. I like to stay on the competitive side to make sure the anglers progress in their skill set. Anyone can join.
The next offshore high school tournament is on November 15th at Lake Livingston. The offshore season runs through April 2015.
The first inshore tournament is Oct 15th at Lake Poloma Creekside.
For more information on the TWHS Bass Fishing team, go to www,twhsbft.org. If you are at a school that dos not have a team, you can contact Henry Burns at hburns@conroeisd.net.