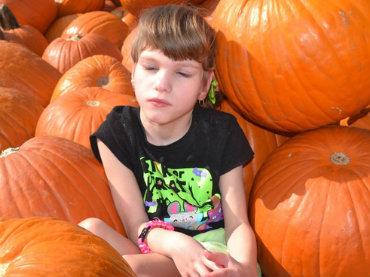 MONTGOMERY COUNTY, Texas -- Newcomers to Montgomery County come with the hope that a new opportunity might help them acquire an essential service dog for their daughter, Madison, but they're still a long way from realizing their dream.
Madison was born at 24 weeks gestation that left her with many disabilities that include Cerebral Palsy, Scoliosis, Seizures, Vision Impairment, Developmentally Delayed, and more. She is unable to do typical seven- year-old activities like slide, swing, chew, color, run, ride a bike, sit unassisted, walk, or communicate any of her wants, needs, or likes.
Madison has faced and overcome many obstacles that would likely destroy one without a fighting spirit and determination. Madison's parents have always attempted to give her as many tools to live and flourish to her potential. Most recently, they have begun the process of fundraising for 4 Paws for Ability to gain the volunteer credits necessary to earn a seizure scent/alert dog for Madison.
Service dogs help children with disabilities function in the real world. A seizure dog will help notify Madison's parents when she is having seizures so they can administer her rescue medication and prevent as much brain damage as possible while also protecting her from hurting herself.
These dogs are not only companions, they are lifesavers and caregivers. They are not your average dog: they are rock stars. And like any rock star, they do not come cheap. It costs between $25,000 – $46,000 to train a seizure assistance dog, but we have committed as volunteers to raise $14,000 in support of the 4 Paws mission to qualify for a free service dog.
Based in Ohio, 4 Paws for Ability is a 501(c)3 non-profit organization that trains service dogs for families and children with outstanding medical and developmental challenges. Service dogs provide support in such areas as emotional comfort, search and rescue, social experience, and boundary control. 4 Paws service dogs give children with extreme challenges the freedom they crave, along with the safety they need. 4 Paws for Ability is a non-profit organization that is training the service dog for Madison. Founder Karen Shirk says, "Through this fundraising partnership, children are not on waiting lists for years." All purchases and donations go towards the selection and extensive training of the dog and all are tax deductible. The 4 Paws website at www.4pawsforability.org states, "A magic exists between children and dogs, a magic that can become a life-saving miracle."
Read Madison's story – http://www.razoo.com/story/4-Paws-For-Madison?fb_ref=w9fb1dHai
All donations can be made in Honor of Madison Rice:
4 Paws For Ability
253 Dayton Ave
Xenia, Ohio 45385