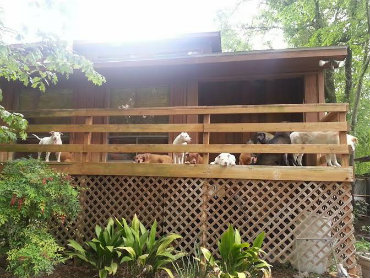 Montgomery County, TX -- Did you know there was a place in The Woodlands where dogs that are blind, deaf, have diabetes, broken legs, or test positive for heartworms may live out their life in a beautiful wooded setting? Dogs that come to the Pure Mutts Animal Sanctuary have been abused, abandoned, and often need medical attention. The Pure Mutts Sanctuary is a place where terminally ill, un-adoptable, and older dogs come to live out their life in a peaceful setting free from cages, kennels, or bars, in a home setting with their own sandbox, swimming pool, and a sun deck. Dogs have access to their own home with beds, sofa, and even a TV!
Healing Hands for Wagging Tails
Since 2006, Priyanka Johri has provided a place for special needs dogs that cannot be a taken care of properly by shelters due to lack of resources, time, and money. Priyanka founded the Sanctuary after she was introduced to Moti, a pit bull puppy abandoned by her family when they relocated. The 6-month old puppy was found tied to a tree in the summer without food and water. Moti changed her life and taught her to love unconditionally.
"Someone needs to stand up for the most loyal of all species...'Man's Best Friend.' We feel that it is a disgrace that older dogs get dumped at shelters after they have faithfully served their human companions for years, or that dogs abused by humans, get put down due to lack of resources at a shelter for their recovery. We do it because someone has to help them," said Priyanka.
All dogs are placed at the Sanctuary through referrals from rescuers, animal shelters, and other volunteer organizations. Through patience, care, and compassion, the dogs are healed from their emotional and physical scarring. Sometimes it takes months or years to win back their trust that they lost through human hands.
Dominic was in bad shape as a blind mistreated dog. He was taken to A&M and is now healthy and thriving. Bandit is blind, older, and had tumors on his back. There are many stories of abandoned, older, and special needs dogs that are now happy, active, nourished, and ready to love. Healing Hands Medical Fund is a Holiday Campaign that provides medical attention for seriously sick and injured dogs. All dogs are treated immediately but the costs can be exorbitant. The cost to care for the animals runs from $800-$2500 each month for heart worm preventive, to a hip dysplasia for $4600. In October a dog was rescued with medical bills in excess of $8500. Many rescued dogs have broken legs with costs ranging from $2500-$5000.
Currently 29 dogs are living at the Sanctuary with 8 that arrived in 2014. The newest addition is Hazel Nut, a mixed breed that suffers from sarcopic mange that is very contagious. She is in horrible shape and itches herself raw. Hazel Nut even had gun pellets in her side. Her vetting costs are estimated to be over $2,000 for blood work, mange treatment, heart worm, spay, and chip. All animals at the shelter are heart-wormed, vaccinated, chipped, and neutered. The dogs know how to use a dog door and are house trained. Although they may have diabetes, deformed legs, blindness, or trouble walking due to old age and arthritis, they are cared for in a loving home free to roam and play. Pure Mutts Animal Sanctuary is also a hospice for terminally ill dogs to live out the remainder of their life gracefully.
"Any amount of donation helps, small donations add up to large amounts to help pay the vet bills. We always run short," said Priyanka. Donations can be made directly at www.PureMuttsAnimalSanctuary.com or a check can be mailed to 2463 Bill Smith Road, The Woodlands, 77384. "Your donation is tax deductable and can help save a dog's life this Christmas."
Priyanka is also a Certified Realtor, Eco Broker, Probate Specialist, and Ecological Designer with 30% of all revenue invested in the Pure Mutts Animal Sanctuary. As a graduate of Leadership Montgomery County Class of 2011, she designed the Community Garden at the Montgomery County Food Bank. "My motto is We take care of People, Pets, and the Planet"
Woodlands Eco Realty continues to donate 30% of their commission to Pure Mutts Animal Sanctuary for medical assistance. As an extra incentive Woodlands Eco Realty will pay 10% of closing costs when the client is buying or selling a home with them, if a donation is made to the Healing Hands Medical Fund by 12/31/15.
Vic's Precision Automotive will donate a $25 certificate towards your next car repair when customers drop off a bag of dry dog food, 6 cans of wet dog food, or make a monetary donation during the "Food for Fido" campaign. Due to medical issues, food needs to be grain free and chicken free. EN Gastroenteric dog food is always in demand for older dogs and dogs with allergies. Vic's Precision Automotive is located at 8320 Texas 242, in The Woodlands. 281.363.2531
Pure Mutts Sanctuary is a 501(c)3 organization dedicated to offering a place for older and terminally ill dogs to spend their last days in loving care. Temporary homes are also provided for dogs that need a place to heal until they find their forever homes. Once the animals are healed, they are put up for adoption on their website at www.PureMuttsAnimalSanctuary.com.
The sanctuary works directly with the shelters and does not accept dogs directly from individuals.
About Priyanka Johri: Priyanka John was a petroleum geologist for Anadarko, Shell, and Kerr-McKee before she changed careers. She is very passionate about helping people buy a home that is truly an investment and not just emotional purchase. After helping several people with her keen insight into investments and negotiation skills she founded The Woodlands Eco Real Estate (TWER). TWER specializes in helping buyers and sellers to obtain a new home that is sustainable while saving energy and water. Johri is also a Certified Real Estte Probate Specialist who offers Executive Rentals for individuals between homes or needing a temporary living space. For more information see related links provided.