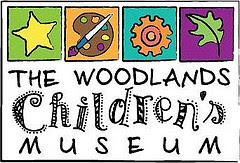 Representatives from Strike visited The Woodlands Children's Museum recently to present a $6,000 donation to the nonprofit museum's Read-A-Lot Kingdom exhibit where literacy programs take center stage. Strike's gift will be used to add a literary and cultural component in which important cultural events will be shared through books and costumes that teach the traditions of other cultures.
The Woodlands Children's Museum
Strike, based in The Woodlands, has a strong history of partnering with organizations to effect positive change in the community and other countries.
'I am impressed with how The Woodlands Children's Museum is providing such a great service to our community,' said Ky Bishop, who serves as staff chaplain for Strike. 'We are excited to partner with an organization that is making such a difference in the lives of children.'
Angela Colton, executive director of the museum, said: "We are so grateful to Strike for believing and sharing in our mission to educate, empower and excite children through play."
Inspiring a lifelong love of learning is accomplished with dynamic programs and workshops in the arts, sciences, robotics and early childhood explorations for ages 2-11 years. The museum's reach extends far into Montgomery and other counties through its outreach programs that travel to or bring under-resourced students to the museum.
About Strike:
Strike is a leading single-source energy services provider, known for its high safety and quality standards. Strike's integrated network of energy services ranges from upstream production, processing and gathering facilities to high-pressure transmission and distribution lines. Strike is committed to ensuring the safety and health of employees, the general public, environment and customers through its industry-leading Safety program. Over the past 10 years, Strike has created various business units to serve the needs of its clients across the nation. The leadership team at Strike is passionate about giving back. Campaign for Change defines Strike's philanthropic endeavor. The initiative launched in January of 2013, with the mission to (1) raise awareness and educate Strike employees, family and friends on the significance of giving; (2) provide opportunities to give time and resources to local communities and throughout the world; and (3) to impact others by changing ourselves. For more information about Strike, please visit www.strikeusa.com.
About The Woodlands Children's Museum:
The Woodlands Children's Museum is a 501(c)3 nonprofit organization dedicated to educating, empowering and exciting children and their families in lifelong learning and discovery. The Museum also provides multi-ethnic and multicultural experiences encouraging children to celebrate and embrace cultural and global differences and strengthen common bonds. Year-round, hands-on activities – from reading and art to science and magic – are all intended to make a positive difference in the life of a child. The museum also offers free admission to military personnel and their families and is a proud member of the Blue Star Museums program. woodlandschildrensmuseum.org.
###
Attached photo courtesy of The Woodlands Children's Museum:
From left, Mary Phillips, community relations coordinator and Angela Colton, executive director of The Woodlands Children's Museum meet with Strike representatives Ky Bishop, staff chaplain, Michele Kooken, marketing director, and Alissa Boesl, special events, to review plans for Strike's $6,000 donation, which will expand programs in the museum's Read-a-Lot Kingdom exhibit.