/

/

Get Inspired by Fall: Mp Studio Offers Advice for Designs That Fit the Season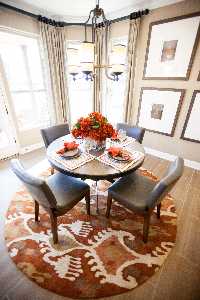 Get Inspired by Fall: MP Studio Offers Advice for Designs that Fit the Season
MP Studio
The warm colors and crisp weather of the season help jog the imaginations of the trendsetters at interior design firm MP Studio.
"We as designers love fall," design director Shana Jacobs said. "We feel inspired by the weather. The cooler temperatures and exit from summer take us from a tropical feel into an autumnal mood. There is a natural sense of new beginnings, and this translates into our designs."
Jacobs said deep tones – like indigo blues and caramels, as well as metals, textured fabrics and leathers are all the rage.
"In the fall, colors deepen and are richer, heavier fabrics are in style, and new inspiration is everywhere," she said. "This season calls for a return of rich leather, upholstery and deeper colors. Fall is also the best season for inspiration from nature."
Jacobs said a few strategic changes and a new color palate can reflect and welcome the changing season.
"Expect to see rich colors this fall -- rich true blues, warm taupes and grays, and jewel tones," she said. "If you ground your space in a neutral palate, changing a few things seasonally is easy. Toss pillows and a few accessories can change with your mood."
Textural accessories are always a good choice, Jacobs said.
"For example, woven trays, driftwood, natural curiosities and horns are great options," she said. "When we get closer to December, accessories for the holiday and New Year season lend a little sparkle, but those are more seasonal."
Gold, brushed brass, antiqued gold are popular finishes for fall accessories.
"We also use jute rugs in nearly every space, and it gives the room a nice, natural base to build from," Jacobs said. "We love fabrics in nubby linens, burlaps and shimmery velvets."
She said natural wood furnishings and warmer décor are hot right now -- and more inviting for family and guests during fall gatherings.
Brittany Biddle, lead designer at MP Studios, suggests that homeowners who want a fresh look start by eliminating clutter.
"Fall is a great time to get rid of anything in a room that isn't necessary – or anything that is broken or you don't care about," she said. "Clean off your surfaces and carefully decide what should be repositioned. Once you have only the things that should be there, your space will feel renewed."
If an old piece of furniture seems to date a room, there are so many ways to re-stain, repaint, repair and renew it, Biddle said. Even an inexpensive piece can gain a new life, simply by repainting it or changing the hardware.
"There are simple, small ways to update a room and give it a renewed feel," Biddle said. "Updating accessories, changing the art or replacing a rug are all good options. The best change you can do to your room is updating the paint. It takes a little extra work and time, but the difference will change the feel of the entire space."
She said another way to update a home is to invest in window coverings.
"Layered windows make a statement and complete a design," she said. "If you feel like a space is incomplete, it may be because you have naked windows. Drapery, even ready-made or store-bought, can make such a huge impact on the feel of the space. It is the best finishing touch."
Biddle explained that staff at the firm spends time researching the latest trends in interior design.
"We find inspiration from new fabric lines, images on Houzz, design articles and -- most of the time -- just by a color palate we have not yet explored," she said. "Each new color combination is a new challenge, as we have to find a new balance in designing a space with a unique vision."
Biddle hopes that homeowners also let the season get them in the mood for modifying their living space.
"In general, every season brings a feeling of renewed excitement," she said. "We are such a fast-paced society, and we tire of things quickly. By the end of a season, in terms of design, we are ready for a new feel. From the transition of summer to autumn, we are ready to say goodbye to lighter colors and welcome richer hues."
For more information, visit MPstudiodesign.com.
About MP Studio
Located at 16000 Memorial Drive in Houston, MP Studio is a full-service interior design firm specializing in single and multifamily design. Sister company to architecture firm Meeks + Partners, MP Studio is committed to offering exceptional design services that meet the specific needs of architects and developers. The design team has combined decades of experience and apply their passion for creating spaces that are captivating and timeless. At MP Studio, each client is provided with an easy, collaborative design experience in which the principals are readily available for consultations.