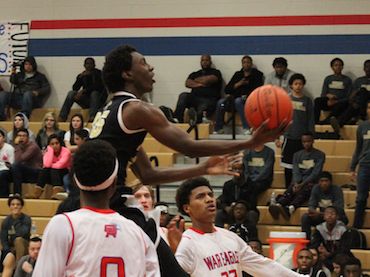 OAK RIDGE, Texas - The Conroe Tigers came out aggressive and quickly established their up-tempo offense en route to a 77-68 district win at Oak Ridge Tuesday night.
Conroe (14-8, 1-1) started the game off with a 6-0 run and had another 8-0 run in the middle of the first quarter to quickly establish a 21-10 lead at the end of the first quarter.
The War Eagles started the second quarter on a 10-4 run to cut the Conroe lead to just just four points with 3:10 left in the second quarter. However another Conroe run of 11-3 to close the quarter saw the War Eagles down 42-31 at halftime.
Click here to watch Game Recap presented by Texas Children's Hospital
Oak Ridge continued to struggle offensively as the War Eagles shot 21-of-51 from the floor, including just 2-for-13 in three-point field goals. Oak Ridge had opportunities to comeback in the second half, however couldn't get any closer than 49-44 with 2:00 left in the third quarter. The War Eagles seemed to gain momentum, however 12 missed free throws and 17 turnovers that turned into 15 fast break points for Conroe was too much to overcome.
Treaion Faggin led all Tiger scorers with 23 points, as Conroe had four players score in double figures.
"I felt that first quarter we established a physical presence on the boards, they (Oak Ridge) are a good team, very well coached and they didn't quit," said Conroe Head Coach John Oliverio.
Oak Ridge (11-11, 0-2) got a valiant effort from Cameron Prejean, who scored 21 points in the second half to finish with a game-high 29 points.