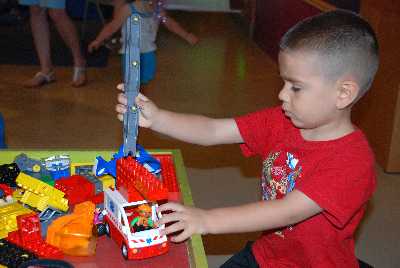 Register for Spring Workshops at The Woodlands Children's Museum
A number for options for children to explore science, art and culture

Registration is now open for spring workshops at The Woodlands Children's Museum – offering a number of age appropriate options for young minds to explore and enjoy science, art and culture.

For children 2 to 3 years old, Early Childhood Explorations invites grown-ups to guide their little ones in the process of developing motor skills and stimulating the brain. Little Picassos allows budding artists to try a variety of media, and Happy Feet gets young dancers moving to the beat while they learn coordination and communication skills.

For 4- and 5-year-olds, KindeReady workshops pave the way for the beginning of school, encouraging a love of books and presenting a variety of engaging activities. Each session explores a different theme. Young artists may enroll in Artful Processes.

For children ages 5 to 8, Creative Workshops use art as a launching pad for education. Children are able to develop a hands-on relationship with what they are learning. Another option is the Science Explorers class, with a curriculum sampling from biology, chemistry, human anatomy, physics, space exploration and even magic tricks. ARTrageous Workshops give students a chance to experiment with collage, clay, found objects, acrylic and watercolors.

Students who are 6 to 10 years old may sign up for the ARTrageous club, an after-school club that allows participants to explore various media while learning about different artists.

The museum also offers Lego Frenzy to 4-year-olds who want to learn basic concepts of building, design and problem-solving. The older children, ages 5 and 6, are able to transform their structures with robotics in Lego Frenzy Meets Righteous Robotiks.

For 7- to 11-year-olds, E.A.R.L.Y. (Engineering and Robotics Learned Young) Robotics introduces engineering concepts as students build robots and motorized models.
To learn more about the workshops and after-school clubs, including times, dates and costs, visit www.woodlandschildrensmuseum.org to download a brochure or call 281-465-0955 for more information.
About The Woodlands Children's Museum
The Woodlands Children's Museum is a 501(c)3 nonprofit organization dedicated to educating, empowering and exciting children and their families in lifelong learning and discovery. The Museum also provides multi-ethnic and multicultural experiences encouraging children to celebrate and embrace cultural and global differences and strengthen common bonds. Year-round, hands-on activities – from reading and art to science and magic –are all intended to make a positive difference in the life of a child. The museum also offers free admission to military personnel and their families and is a proud member of the Blue Star Museums program. www.woodlandschildrensmuseum.org.