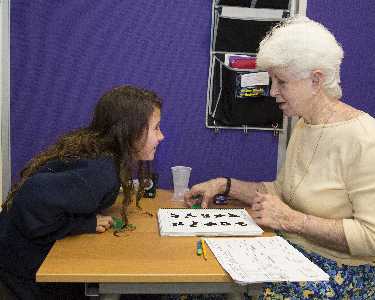 MONTGOMERY COUNTY, Texas -- According to the experts at The Woodlands LearningRx, exercise is not just for the body. Mental fitness is equally important, owner and director Kim Bellini attests. She explained that the brain needs a regular workout to stay mentally fit.
The Woodlands LearningRx offers ways to help smart kids get even smarter
"Current research tells us that by exercising and strengthening the brain's core skills -- including attention, processing speed, visual processing and memory -- neural pathways may develop, neurons grow and brain activity can improve," she said. "And even students who are doing well in school can reach for even greater gains."
She said that brain-training programs have shown to be especially effective in helping smart kids become even smarter.
"Brain-training programs are not just intended for children who struggle," Bellini explained. "We want to help students who want to gain a competitive edge. Even if your child is an A student, brain training can help them become faster and more proficient."
With private schools and college admissions becoming increasingly competitive, there is no better time to begin doing as much as possible to enhance a child's resume of accomplishments.
"Studies show that students have the ability to increase intelligence," Bellini said. "We want individuals to know that they can realize their true potential."
She explained that training helps children build faster, smarter, more efficient brains.
"Brain training delivers an empowering mental boost," Bellini added.
She also recommends that individuals of all ages consider a mental work-out to get the brain in shape – whether it is for students who want to return to school stronger next year or for adults who want to boost productivity at work.
"Try some games that build cognitive skills, read more or take a class to learn a new skill," she said.
Bellini said that brain training has been shown to radically reduce rehabilitation time and increase recovering brain function for those suffering from brain injuries due to accidents, sports or war.
The unique training at The Woodlands LearningRx transforms a student's ability to learn at a core, cognitive level – and strengthen connections in the brain. Located at 4840 West Panther Creek, Suite 205, the center offers brain-training programs for individuals of all ages.
To learn more about The Woodlands LearningRx, call (832) 482-3082 or visit www.learningrx.com/the-woodlands or http://woodlandsenespanol.com/learning-rx.html.