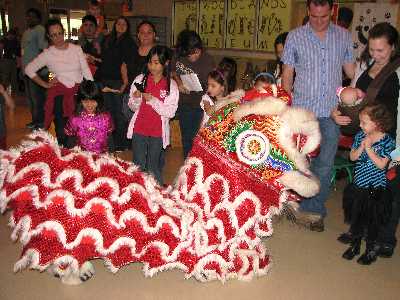 THE WOODLANDS, Texas -- The museum, located at 4775 W. Panther Creek Drive, Suite 280 in The Woodlands, will be transformed with traditional colors and decorations in celebration of the Year of the Ram.
Lion dancers, art projects, games planned for February 14
On Saturday, Feb. 14, the museum will host its grand Chinese New Year celebration from 10 a.m. to 2 p.m. Lion Dancers will perform, and there will be various art projects and cultural activities throughout the day. The event is included in the price of admission.
"We always look forward to our Chinese New Year celebration at the museum," executive director Angela Colton said. "It's a great opportunity to help children discover the rich traditions in Asia – and explore the art and culture of the various countries that celebrate the Lunar New Year."
The Woodlands Children's Museum always has a calendar full of fun activities planned for the year ahead, as well as a number of workshops for children ages 4 through 8.
To learn more about The Woodlands Children's Museum, its hours of operation and ways to support the nonprofit, visit www.woodlandschildrensmuseum.org or call 281-465-0955. The museum is always looking for sponsors or partners for events. Follow the museum's Twitter handle @thewoodlandscm.
About The Woodlands Children's Museum
The Woodlands Children's Museum is a 501(c)3 nonprofit organization dedicated to educating, empowering and exciting children and their families in lifelong learning and discovery. The Museum also provides multi-ethnic and multicultural experiences encouraging children to celebrate and embrace cultural and global differences and strengthen common bonds. Year-round, hands-on activities – from reading and art to science and magic –are all intended to make a positive difference in the life of a child. The museum also offers free admission to military personnel and their families and is a proud member of the Blue Star Museums program. www.woodlandschildrensmuseum.org.
###
Attached photo courtesy of The Woodlands Children's Museum.