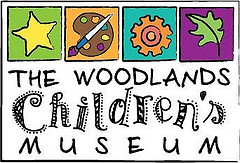 The Woodlands Children's Museum
The Woodlands Children's Museum
Spring Into The Woodlands Children's Museum: Spring BreaKation offers events, enrichment activities for children ages 4 to 8 from March 14 to 21
Mark your calendars for a fun-filled Spring Break at The Woodlands Children's Museum.
The museum, located at 4775 W. Panther Creek Drive, Suite 280, will host its annual "Spring BreaKation," from March 14 to 20.
Saturday, March 14
Celebrate Einstein's Birthday at the museum with the help of local brain-training center The Woodlands LearningRx. Discover details about Einstein, the amazingly intelligent inventor, during our story time, through art projects and with a matching trivia game. The fun begins at 10:30 and ends at 12:30 p.m.
Monday, March 16
Stop by for comedic magic shows with Ruffles the Clown at 11 a.m., 12:30 p.m. and 2 p.m.
Tuesday, March 17
Don't miss our Irish-at-heart tribute to St. Patrick's Day presenting the McTeggart Irish Dancers from The Woodlands/Magnolia, dedicated to sharing Irish dance in a positive family-friendly atmosphere. Enjoy participation with "Irish" art activities in the Muse.
Wednesday, March 18
Delight in colorful, interactive, child-friendly and entertaining performances with macaw and other exotic birds under the direction of Sonny "the Birdman" Carlin from Exotic Wings Productions. Three shows are scheduled: 10:30 a.m., 12:30 p.m. and 2 p.m. Prelude Sing-Along will also host an interactive musical experience for the whole family at 11: 15 a.m.
Thursday, March 19
Sing songs and clap hands along with event coordinator Nan Price and staff member Gabriel Perez. Price will play guitar on sing-along silly songs at 10:30 a.m., noon, 1 p.m. and 2:30 p.m.
Friday, March 20
Professor Hughdini returns to the museum to host several high-energy magic shows – filled with comedy, music, live animals and several opportunities for audience participation. The shows will be held at 10:30am, noon, 1:30 p.m. and 2:30 p.m.
Saturday, March 21
Join AndyRoo on a musical journey to the AndyRooniverse — a magical town created by the ever-expanding landscape of children's imaginations. The concert is scheduled from 11 a.m. to noon.
All week
Science PALOOZA! Different science experiments are planned for each day of the week. Visitors who stop by between 10 a.m. and 5 p.m. can step into the lab and try the interactive experiment du jour.
Classes
The museum has designed a special curriculum for Spring BreaKation for children ages 4 to 11. Choose from ARTrageous Workshop, Princess and Pirate Play, A Circus Life for Me, Super Heroes, A Box of Ideas, Scientifically ARTrageous and E.A.R.L.Y. Robotics.
"Why not take full advantage of Spring Break – by emerging into educational, culturally enriching workshops?" executive director Angela Colton said. "It's a great way to keep children engaged and learning while the teachers are away."
To learn more about The Woodlands Children's Museum, its hours of operation and ways to support the nonprofit or to download the Spring Programs brochure, visit www.woodlandschildrensmuseum.org or call 281-465-0955. The museum is always looking for sponsors or partners for events. Follow the museum's Twitter handle @thewoodlandscm.
About The Woodlands Children's Museum
The Woodlands Children's Museum is a 501(c)3 nonprofit organization dedicated to educating, empowering and exciting children and their families in lifelong learning and discovery. The Museum also provides multi-ethnic and multicultural experiences encouraging children to celebrate and embrace cultural and global differences and strengthen common bonds. Year-round, hands-on activities – from reading and art to science and magic –are all intended to make a positive difference in the life of a child. The museum also offers free admission to military personnel and their families and is a proud member of the Blue Star Museums program.www.woodlandschildrensmuseum.org.