Get in the Spirit of Carnival and Mardi Gras at the Woodlands Children's Museum.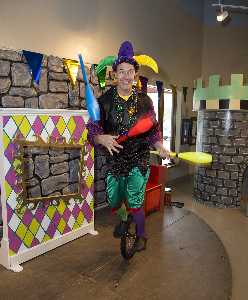 Laissez les bons temps rouler at The Woodlands Children's Museum
Mardi Gras celebration slated for February 17
Mardi Gras celebration slated for February 17
Get in the spirit of Carnival and Mardi Gras at The Woodlands Children's Museum.
The museum, located at 4775 W. Panther Creek Drive, Suite 280 in The Woodlands, will be the place to be – for beads, masks, parades, music and, of course, king cake.
Guests are invited to show up in purple, gold and green on Tuesday, Feb. 17. The fun begins at 10 a.m. and lasts until 2 p.m.
Festive art projects take center stage at the Muse – inviting children to make their own jester hats, masks and bead necklaces.
Guests may then join in the children's indoor mini-parade – showing off their handmade masks and beads – with three parade times at 10:45 a.m., 11:15 a.m. and 12:15 p.m. Claude Sims, the juggler will perform on stage at 11:30 a.m. There will also be a musical performance by Prelude and plenty of King Cake on hand for hungry visitors.
Schillecci's New Orleans Kitchen and Montgomery Bakehouse are partnering in the event. Schilleci's is an intimate, elegant French Quarter-style restaurant on Market Street in The Woodlands. Montgomery Bakehouse is a mom and pop bakery, serving up goodies prepared from scratch, located at 1505 North Frazier Street # 105 in Conroe.
The cost to attend the event is included in the price of admission, which is $5 per person, and participants are invited to stay and play after the celebration.
"Mardi Gras is a great opportunity to engage children in creative play," Angela Colton, the museum's executive director, said. "It's also the perfect time to teach children about Carnival celebrations around the world."
The Woodlands Children's Museum has a calendar full of fun activities planned, as well as a number of workshops for children ages 4 through 8.
To learn more about The Woodlands Children's Museum, its hours of operation and ways to support the nonprofit, visit www.woodlandschildrensmuseum.org or call 281-465-0955. The museum is always looking for sponsors or partners for events. Follow the museum's Twitter handle @thewoodlandscm.
About The Woodlands Children's Museum
The Woodlands Children's Museum is a 501(c)3 nonprofit organization dedicated to educating, empowering and exciting children and their families in lifelong learning and discovery. The Museum also provides multi-ethnic and multicultural experiences encouraging children to celebrate and embrace cultural and global differences and strengthen common bonds. Year-round, hands-on activities – from reading and art to science and magic –are all intended to make a positive difference in the life of a child. www.woodlandschildrensmuseum.org.