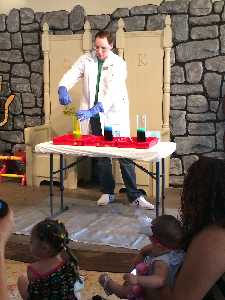 Science Explorers at The Woodlands Children's Museum
Students discover all the slimy, fizzy, crawly and starry elements of their favorite subject
Students discover all the slimy, fizzy, crawly and starry elements of their favorite subject
The Woodlands Children's Museum has designed the perfect course for future Isaac Newtons and Marie Curies.
The curriculum for the Science Explorers workshop spans the gamut of the subject – offering an introduction to biology, human anatomy, astronomy, physics and chemistry for students ages 5 to 8.
The first spring session started on Jan. 6 and runs until Feb. 10. Enrollment is still open for session two, which starts on Feb. 17 and continues through March 31. A third workshop runs from April 7 to May 12.
Some lessons take students through hands-on labs, while on other days an instructor leads slimy, fizzy and gooey demonstrations.
Sometimes, real world scientists will stop by and join the class. For example, last fall, Zac Schneider, head electrical engineer in the Texas office of CMTA Consulting Engineers led a lesson on solar energy.
Educational coordinator Kaylin Camp said that Schneider provided a presentation about a school in Montgomery County that CMTA designed to be completely solar-powered.
"They discussed how the school is different from schools that they had been in and how their electric bill was drastically lower than that of a regular school," she said. "Mr. Scheider also discussed aspects of his job and how he works every day to help businesses and home owners use the sun to conserve energy."
Then students discussed ways they could conserve energy in their own homes.
There are a number of workshops available at The Woodlands Children's Museum – offering a range of options for young minds to explore and enjoy science, art and culture.
To learn more about workshops and after-school clubs, including times, dates and costs, visit www.woodlandschildrensmuseum.org to download a brochure or call 281-465-0955 for more information. Follow the museum's Twitter handle @thewoodlandscm.
About The Woodlands Children's Museum
The Woodlands Children's Museum is a 501(c)3 nonprofit organization dedicated to educating, empowering and exciting children and their families in lifelong learning and discovery. The Museum also provides multi-ethnic and multicultural experiences encouraging children to celebrate and embrace cultural and global differences and strengthen common bonds. Year-round, hands-on activities – from reading and art to science and magic –are all intended to make a positive difference in the life of a child. The museum also offers free admission to military personnel and their families and is a proud member of the Blue Star Museums program. www.woodlandschildrensmuseum.org.