/

/

Margarita & Peppers Mexican Grill & Bar celebrating daily for ten years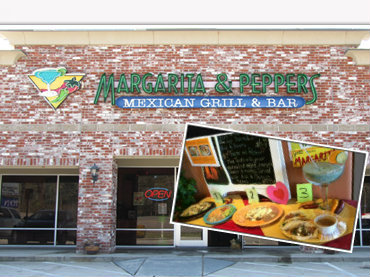 CONROE, Texas - The Latin Carnival is underway and if anyone has reason to celebrate it's Margarita & Peppers Mexican Grill & Bar, having reached their 10th anniversary. For a decade the family-owned and operated business has been providing Conroe residents with the finest Mexican cuisine north of the border.
"Our restaurant is like another one of our children," said Elena. "We've raised it like we have our own children."
That they have. The restaurant has matured in the last decade to offer all the amenities of any national restaurant chain which includes dining in, online ordering for their 'to go' service, and catering. A banquet room is available for private parties, as is patio dining, and live music.
Patrons can order from their superb selection of Tequilas, Daiquiris, and they also have a select wine list. The restaurant is especially noted for their signature Margaritas, hence the name, made with Reposado Tequila and 100% Agave. Or order the Fiesta Margarita consisting of Reposado Tequila, Triple Sec, Grand Marnier, and fresh squeezed lime juice. It's like a carnival in itself.
When asked if the restaurant was doing anything special for the Carnival season (Feb 13-17), Elena replied, "We celebrate everyday. We had a tenth anniversary party at the beginning of the year, but everyday is a party at Margarita and Peppers," she added. "We have 'Happy Hour' seven days a week and daily specials."
The daily 'Happy Hour' is 11:00 a.m. to 7:00 p.m. 'Daily Specials' start at $4.99, and are served until 3:00 p.m. There are two dozen daily specials; three to four times as many as other restaurants. At last count, there were 79 menu offerings; this doesn't include the 26 a la carte options. And the presentation of their food is unsurpassed.<p>
"The food is made from scratch using fresh, top quality ingredients every day," said Adam Nunez. "We enjoy what we do, and we enjoy providing our quality food to our customers."
Other value-added customer conveniences include gift certificates and gift cards, and a children's menu.
"We've been offering a kids menu since we first opened," said Elena. "We're very family friendly."
Obviously. The Nunez family now totals five.
If you're looking for a place to party this carnival season, Margarita and Peppers Mexican Grill & Bar can accommodate you any day with a celebration. The restaurant is conveniently located on at 2259 N Loop 336 West at Hwy 105 West in Conroe (77304). Look for the restaurant on the northeast corner next door to Dollar General.
Restaurant hours are:
Sunday thru Thursday 11:00 a.m. - 10:00 p.m.
Friday and Saturday 11:00 a.m. - 11:00 p.m.
For additional information or to phone in an order, call 936-788-1408. To order online go to Margarita and Peppers Online Orders. Also visit the website link provided.
Margarita and Peppers Mexican Grill & Bar...where the party never ends!
#PartyOn #carnival2015