/

/

Montgomery County residents hear from Pct 1 Commission about upcoming road bond
Montgomery County residents hear from Pct 1 Commission about upcoming road bond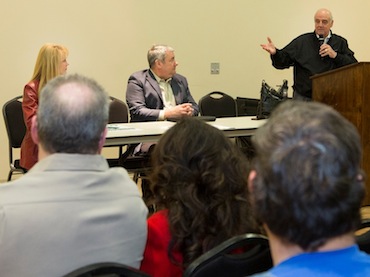 MONTGOMERY COUNTY, Texas – The first of a series of countywide public meetings to discuss the upcoming Montgomery County road bonds election was recently held at the North Montgomery County Community Center in Willis. The meeting was organized by the Montgomery County 2015 Road Bond Committee and the Keep Montgomery County Moving Political Action Committee, and included an informational presentation by Precinct 1 Commissioner Mike Meador.
Members of the public were presented with a list of Willis-area road improvements that would occur upon the bonds being approved in the upcoming countywide election. Commissioner Meador discussed the history of past road bonds and their positive effect on the community, and later took questions from the public audience. He was assisted by Michael Beitler, Precinct 1 Engineer, and Nelda Luce Blair, Co-Chair of the Road Bond Committee. Willis City Manager Hector Forestier and a representative from the Texas Department of Transportation were also in attendance. Precinct 4 Commissioner Jim Clark also briefly spoke of his list of projects for road bonds.
"I feel confident that the residents of my precinct and the rest of Montgomery County will be armed with the facts when they go to vote on May 9," Meador said. "The committee had leaders of all four precinct commissioners submit lists of road repairs that were considered essential to the continued growth of our communities. Members of the committee were able to pinpoint a total cost of the bonds – $350 million – that would cover 77 road improvement projects and that citizens would feel confident in passing." Blair added, "The most important consideration to the committee was that with the current rate of economic growth, these bonds come with no tax increase."
For more information on the planned road improvements for Precinct 1, refer to the website www.KeepMontgomeryCountyMoving.com or call Commissioner Mike Meador at 936-539-7815.