/

/

The Lesson Plan - a Guidebook for Mothers & Daughters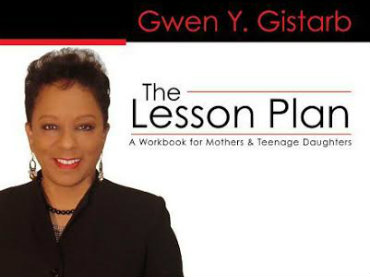 Houston, TX - Raising children is not an easy task with so many influences and the height of social media. Teenage girls need guidance from their mothers to learn to be independent, make good choices, and take care of themselves in a respectful way that will lead them down the correct path in life as an adult to succeed in the real world. With Mother's Day approaching, The Lesson Plan is a great way to connect mothers and daughters in a fun guidebook format.
Native Houstonian, Gwen Gistarb, spent twenty eight years as an educator in the Houston Independent School District teaching Family and Consumer Science classes to young teens. Gwen noticed that many of the young ladies did not have self- respect, respect for others, good judgement, and often became young moms or on drugs. The Lesson Plan was written to offer a method of communication and a guidebook for teaching daughters simple everyday methods for surviving in the world.
"As a mother and educator I know the importance of strong and positive relationships on the success of a child's life," said Gwen Gistarb. "My guidebook will enable parents to identify the thin line between a parent and a friend to their child and redefine their position. Daughters need their moms more than ever now."
The Lesson Plan is broken into ten segments as an informative guide to educate, inspire, and motivate daughters and their mothers to enhance their relationship through communication. Lessons are learned by hands on activities and readings of poems, metaphors, short stories, and quizzes to inspire conversation.
Several parental objectives will be achieved:
Repositioning parent roles
Reestablishing lost relationships
Listening without judgement
Building self-esteem, self-awareness, self-confidence, and self-respect
Preparing teens for the work force
The Lesson Plan now has a soundtrack produced from a poem in the book, "Can I Talk to You," sung by Amanda Davis, granddaughter of Gwen Gistarb.
"Daughters want a way to connect with their moms. This poem pleads for the moms to listen and be there for their daughters," said Gistarb.
The soundtrack and The Lesson Plan will be available for Mother's Day at www.GwenGistarb.net
Meet Gwen and have her sign a copy of her book at these public appearances:
4/12/15 Barnes and Noble (5656 Fairmont Parkway, Pasadena)
4/18 Barnes and Noble (1201 Lake Woodlands Drive, The Woodlands)
4/25/15 Barnes and Noble (The Village at West Oaks, 2450 Hwy 6, Houston)
And on several radio broadcasts:
4/14/15 Lone Star Internet Radio www.irlonestar.com Mark and Cindy Show 10:00am
4/16/15 Tough Talk Radio with Tony Gambone Tough Talk Radio with Tony Gambone
Learn more about The Lesson Plan by visiting www.GwenGistarb.net or follow on Facebook at www.Facebook.com/TheLessonPlan or by emailing gygistarb@gwengistarb.net