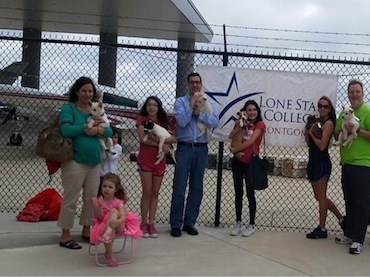 CONROE, Texas – Flight Lone Star College-Montgomery departed from the Lone Star Executive Airport in Conroe last month, bound for Salem, Massachusetts. The passengers? Forty-one dogs, whose lives were rescued due to the generosity of the faculty, staff and students at Lone Star College-Montgomery. Collectively, the college raised over $4,800 to remove these animals from area shelters and transport them to happy owners across the country. At-risk dogs are rescued by Operation Pets Alive, an all-volunteer organization in Montgomery County. They are fostered in homes, but donations are needed for the dogs to be transported. In appreciation for hard work of the faculty, staff and students, Operation Pets Alive named the flight after the college.
"It's a matter of supply, demand, and compassion," explained Kevin Sumrall, professor of psychology at LSC-Montgomery, and coordinator of the fundraising campaign. "For those 41 puppies, Operation Pets Alive was a lifesaver. We have more adorable puppies in our county than can be adopted locally, and with many shelters up north in need of adoptable dogs, our hope is that we serve as a model and other organizations and businesses in our county will step in and help finance more flights."
Interested businesses and charities can contact Sumrall at (936) 273-7323 or Kevin.W.Sumrall@LoneStar.edu.
LSC-Montgomery is located at 3200 College Park Drive, one-half mile west of Interstate 45, between Conroe and The Woodlands. For more information about the college, call (936) 273-7000, or visit the link provided below.