/

/

Knights of Columbus Council 10th Annual Montgomery County Right to Life Dinner
Knights of Columbus Council 10th Annual Montgomery County Right to Life Dinner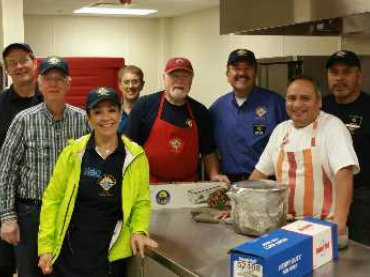 CONROE, Texas - The Conroe Council #6456 preparation for 10th Annual Dinner for Life at Living Branch Church on SR336 in Conroe, TX. The dinner served over 450 people on Saturday March 21st and is partnership with the Montgomery County Right to Life fundraiser for Pro-Life education programs in the area.
Conroe Knights of Columbus Council #6456 Dinner for Life
More than 40 Knights and their families participated in a three day preparation of the dinner for life. Tasked by MCRTL President Dr. Joe Morrison, K of C Members, Chef Angle Oidor, James Mullally and Peter Wakefiled directed the group of volunteers in preparation of the stuffed pork loin, boiled potatoes and vegetable medley dinner. Dinner preparation began on Thursday night and finishing touches were completed Saturday morning. Chef Angle, an artisan with fruit carvings, also created several center pieces for the event depicting the early life of a child. When asked, Angel said, "I see the images and carving just comes to me."
MCRTL Director Teresa Strack thanked the Conroe Knights saying, "We could not make the Dinner for Life the community event that it is without your partnership. With your support, our banquets are accessible cost wise to all and making it possible for more young folks and families to come, hear the message, and go out to change our world."
With more than 1.7 million members, the Knights of Columbus is the world's largest Catholic lay organization. It provides members and their families with volunteer opportunities in service to the Catholic Church, the community, families, and young people. The K of C Council # 6456, formed in 1973, has been dedicated community organization with various charitable and volunteer projects in Conroe, TX.