/

/

UPDATE: Donald Trump emphasizes better leadership, jobs, and education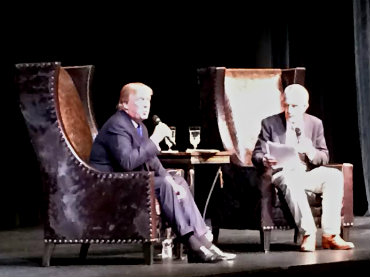 UPDATE: May 1, 2015
Donald Trump to announce decision on 2016 run for presidency this summer.
THE WOODLANDS, Texas -D onald Trump avoided confirming a run for the 2016 Presidential race, deferring the decision until this summer, but emphasized that better leadership, jobs, and education are essential to restoring America to greatness.
Speaking before a packed house in The Woodlands High School auditorium, Donald Trump all but threw his hat in the ring for the 2016 presidential race. Reiterating what he told the media in a sidebar press conference, "I've already made up my mind. I'll let you know my decision in June or July, but I'm pleased with the decision I've made."
The event opened by Texas Patriots PAC President, Julie Turner, and emceed by Woodlands Township Director, Gordy Bunch, who then introduce Houston's own mega entrepreneur, Jim "Mattress Mack" McIngvale, who introduce Donald Trump and presided over the event by asking questions of interest.
The questions chronicled Trump's life to date, starting with his childhood, the evolution of his business, into his philosophy on foreign trade, and his opinions of politicians. The event was in the style of a 'Meet the Candidate' forum.
Trump's solution to resolving the country's economic woes and paying down the debt, which is currently at $16,787,451,118,147 as of May 1, is jobs; returning manufacturing to the United States...bringing manufacturing back from China and Mexico. Trump was plainspoken about his attitude on these foreign entities.
"We can't allow China to rip us off...It's terrible...People think we have free trade. We don't have free trade. China kills us...they charge us taxes when we send stuff over here...they totally manipulate their currency," said Trump. "Where do we win anymore? We don't win anymore."
On the subject of trade with Mexico, citing an automobile manufacturing plant originally slated for Tennessee that is being moved to Mexico…
"We don't win ever with Mexico...Mexico is not our friend...Everything is coming across the border, the illegals, the cars, it's like a big mess, roar, like vomit," said Trump.
Trump's solution to the influx from Mexico…"I'm a great builder. I can build the greatest wall that anybody has ever seen," said Trump. "And you know who is going to pay for it? Mexico, by the money they've been screwing us with, they will pay for it...and they will be happy about it."
The evening was not without some levity, when Trump was asked about his energy level, he said staying healthy was important to maintain his energy, although he admitted that he slept very little.
"We'll have plenty of time to sleep later," said Trump.
With that, "Mattress Mack" quipped, "I can sell you a good mattress."
Trump maintains that if leadership would make the right decisions...bringing industry back into the U.S. to create jobs, levying higher taxes on imports, imposing limits on immigration, the situation in this country would rectify itself.
"It wouldn't take ten or twenty years," said Trump. "We don't have twenty years! It won't take twenty days. It'll go fast."
It the media press conference prior to the event, a journalism student voiced a concern about the high cost of education and the student debts being incurred to obtain a college education.
Trump underscored the importance of jobs.
"It's all about jobs. Gotta have jobs. We've got to take jobs back from China and all these other countries," said Trump.
Jobs, education, and leadership are the fundamentals that were addressed to restore the country to prominence.
"Other countries look at us a joke, a laughing stock. They rip us left and right. We really don't know what we're doing as far as leadership. Our leadership is incompetent."
Trump was equally tough on Republican candidates as he was on the current administration.
"The Republicans want to cut Social Security. I don't want to cut Social Security, I want China to pay for it," said Trump.
Trump stated the fundamental deficiency in the United States is leadership. Politicians can't do the right thing because they're beholding to lobbyist and special interest groups who fund their campaigns.
"Everybody running is out looking for money. I don't need their money. I have my own. I'm self-funded," said Trump.
The discourse went off on tangents at times, covering some current events...the Hillary Clinton email issue, the Baltimore unrest, but the primary message was that change was needed, and it will require better leadership.
Amy Van Horn, President of The Woodlands Republican Women said what Trump had to say was tantalizing.
"I want to hear from all the candidates though, before I make my decision," said Van Horn, "but it was good to hear ideas how we could restore our country to greatness."
The message Trump left the audience was 'Never Give Up,' the title of one of his fifteen books (Trump Never Give Up: How I Turned My Biggest Challenges into Success, 2008). In June or July we'll see if he follows up on his own advice.
Mote: Excerpts and quotes taken from audio notes.
ORIGINAL STORY:
THE WOODLANDS, Texas - The Woodlands and surrounding community will hear two of our nation's most successful entrepreneurs Thursday, April 30, at The Woodlands High School Auditorium. Hosted by The Woodlands-based Texas Patriots PAC, billionaire real estate magnate, Donald Trump, and Jim "Mattress Mack" McIngvale, will speak on topics of interest to voters in this region.
In addition to being the chairman and president of The Trump Organization and the founder of Trump Entertainment Resorts, Trump also starred in and and co-produced The Apprentice, a successful reality television series where contestants compete for the opportunity to run one of Trump's companies. His road to success has been an arduous one. After attending a military academy in order to better direct his behavior and energy, he graduated from the Wharton School at the University of Pennsylvania, one of the few universities with a real estate department, obtaining a Bachelor of Science degree in economics. He then began his real estate career in his father's company.
It appeared for some time that Trump had the 'Midas Touch,' with a succession of successful real estate projects, but poor business decisions and mounting debt resulted in business bankruptcies, but managed he to avoid personal bankruptcy. Resourcefulness could be considered one of his greatest attributes, leveraging the bankruptcy laws to his advantage.
"I've used the laws of this country to pare debt. ... We'll have the company. We'll throw it into a chapter. We'll negotiate with the banks. We'll make a fantastic deal. You know, it's like on 'The Apprentice.' It's not personal. It's just business," said Trump.
In 2000, Trump expressed a desire to run as a third-party candidate for the United States presidency, considering a bid for the nomination of the Reform Party as a business conservative, socially moderate candidate. In 2010, Trump again considered himself a potential candidate for President of the United States for the 2012 election, and in 2013, Trump spent over $1 million to research a possible run for president of the United States in 2016. The Texas Patriots PAC has indicated that Trump's first visit to Texas to speak publicly, is not for the purpose of campaigning.
Likewise, Jim McIngvale, the founder and owner of the Gallery Furniture retail stores, has had an entrepreneurial career with ups and downs. His start in business wasn't served on a platter with a silver spoon, instead, his business venture began by selling mattresses on the shoulder of the I-45N freeway, thus the nickname "Mattress Mack." Downturns in his business correlated to the local economy and its ties to the oil industry's fluctuations. His greatest attribute is resiliency. A proven track record of making savvy business decisions, like embracing W. Edwards Deming's philosophy on quality, have enabled McIngvale's furniture industry to survive and thrive. Originally selling less expensive furniture to the lower-income masses, Gallery Furniture, has since expanded to include a higher quality line of furniture, with the emphasis on products made in America.
Mcingvale has shared his 'rags to riches' story in his book, Alway Think BIG, a blueprint for entrepreneurship, and has shared his success with the community, giving away houses of furniture, ensuring to the needs of military personnel, providing free lunch at his furniture stores, and more.
Who better to tap for a dissertation on business, entrepreneurship, and the American Dream, than the country's two most recognizable pitchmen? The public is invited to hear this engaging discourse which will take place from 7:30 - 9:00 p.m., April 30. Tickets are $25 for adults; $10 for students. Tickets are free for veterans and actively serving military personnel. For more information call 713-400-1272 or email lynn@texaspatriotspac.com. For tickets visit the link provided.
The Woodlands High School Auditorium is located at 6101 Research Forest Drive. Doors will open at 6:30 p.m.
A dinner will precede the presentation at the Club at Carlton Woods in The Woodlands at 3:30 - 6:30 p.m. The agenda is as follows:
3:30 Executive Roundtable with Donald Trump
4:30 VIP reception and photo with Donald Trump
5:30 Dinner with guest speaker, Donald Trump
Individual tickets are $1,250, and $2,500 per couple. Sponsorship tables of 10 range from $5,000 to $50,000. Contact the Texas Patriots PAC website for tickets.
It will be an interesting evening as the haves and the have-nots co-mingle with the rich and famous. It remains to be seen which master showman will outshine the other. Will Trump's star power outshine the rags-to-riches local philanthropist, Jim McIngvale? Or will Mattress Mack's over-the-top presentation skills out 'trump' The Donald? This is a show unlike any the local community has had the opportunity to see, and will be well worth the price of the ticket.