/

/

Delight in local restaurants at Annual Tastefest May 14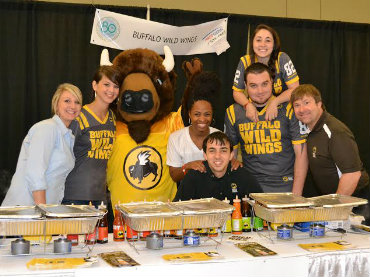 Conroe, Texas – Bring your appetite and sample some local culinary delights from H-E-B as well as other area restaurants, wineries, breweries and caterers, at the Conroe/Lake Conroe Chamber of Commerce's Tastefest. The event is Thursday, May 14, 2015, from 5-8 p.m. at the Lone Star Convention Center.
Attendees can sample mouth-watering appetizers, entrees, desserts, pastries and beverages. Tickets are $15 for adults, $5 for children ages 12 and under and $25 for two adult tickets. Ticket packages at a discounted rate also are available.
"Tastefest is a highly anticipated event every year in Conroe. We are excited to have H-E-B as our presenting sponsor again this year and to bring back their Cooking Connection Kiosk. It was very popular last year," said Scott Harper, president of the Chamber. "We have over 40 food and beverage booths this year, more than in previous years. There is something for everyone in the family from appetizers to entrees to desserts and spirits. Guests won't leave hungry."
Some of the big features at the event include H-E-B's Cooking Connection Kiosk, Conroe ISD Culinary Arts Students, and a food drive benefiting Montgomery County Food Bank.
The H-E-B Cooking Connection Kiosk immerses guests in the sights, sounds and smells of professional cooking. There will be live cooking demonstrations, with delicious recipe ideas, and entertainment provided by talented chefs.
Again this year is a food drive supporting the Montgomery County Food Bank. Attendees are encouraged to bring a canned food donation to the event. They get to drop their business card in to win a prize provided by the Food Bank.
The Conroe ISD's Culinary Arts students are on hand to showcase their young talents at the event. The Culinary Arts program is offered through Career & Technical Education and is located at Conroe High School. The program is open to students from all six Conroe ISD high schools. In the Culinary Arts program, students develop skills in preparing sauces, soups/stocks, sautéing and frying, garnishing, grilling, baking pastries, desserts, and breads. They also learn about equipment and technology, culinary nutrition, creating menus, recipe conversion, cost control techniques and the plating and presentation of food.
"Conroe ISD is delighted to be participating in the annual Tastefest," said Greg Shipp, CTE Coordinator. "We are honored to be partnering with the Conroe/Lake Conroe Chamber of Commerce for the event. This is an excellent opportunity for our students to practice networking with the industry experts as well a practice the skills necessary for success after high school."
This event is presented by H-E-B and sponsored by the following Conroe businesses:
Amegy Bank of Texas, Buffalo Wild Wings, Carr, Riggs & Ingram, LLC, Community Impact, Conroe Regional Medical Center, Conroe Today, Conroe Welding Supply Inc., Consolidated Communications, Correct Care Recovery Solutions, FASTSIGNS®, Faust Distributing Company, Inc., First National Bank, Heartis Memory Care, Impact Printing, Incredible Pizza Company, Physicians ER Conroe, Silver Eagle Distributors, The Courier, Thornton Financial, Tradition Bank, and Woodforest National Bank.
For more information about Tastefest or the Chamber, please visit Conroe/Lake Conroe Chamber of Commerce or contact Courtney Galle, director of program development, at courtneyg@conroe.org or 936-538-7111.
#Tastefest