/

/

County Officials swear in new East Montgomery County ESD 7 members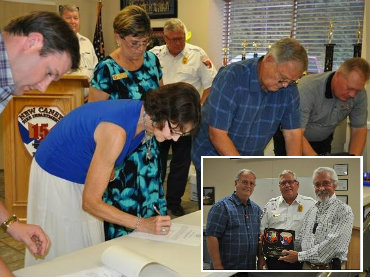 NEW CANEY, Texas - Board members of both New Caney and Splendora Fire Departments, Montgomery County Officials, family, and friends gathered Tuesday, June 9th to witness the "changing of the guard" with the first official day of the merge between Montgomery County ESD 7 (New Caney Fire Department) and Montgomery County ESD 11 (Splendora Fire Department) to form the new Montgomery County ESD 7 (East Montgomery County Fire Department).
The merger of New Caney & Splendora Fire Departments is now official.
"This is a big day in the history of the fire department and Montgomery County", said Jim Clark, Commissioner of Precinct 4. "Each time there is a call, lives are being saved. Board Members have made this possible. You have 100% of my support".
Tuesday marked 30 days since the May 9 vote that residents of both New Caney and Splendora took to the polls to give approval of the merge of the two departments and a half penny sales tax in unincorporated areas of Splendora. The additional funding from the sales tax election will staff the existing Fire Station 162 (Morgan Cemetery Road) with firefighters 24/7 to enable improved response time and more efficient fire protection.
Retired Board Members from ESD 7 in New Caney are Eugene Weisenbaker and David Sheffield. Sheffield was a member of ESD 7 for 30 years, from 1985-2015.
"In 2004 we started adding community business leaders without fire experience. It was a great idea to run the fire department like a business with a goal to increase money for equipment and whatever the firefighters needed to suppress fires in the community", said Sheffield.
Sheffield was honored for his many years of dedicated service in the community.
ESD 11 in Splendora retired Board Members Wesley Swanson, Tom Lucas, and Jacqui Vat. Swanson had been involved with the fire department for 26 years and will continue in an Assistant Chief position with ESD 7.
The newly formed East Montgomery County Fire Department ESD 7 Board members will be Jan Peterson, Guy Handcock, Dusty Payne, Barry Welch, and Wanda James. Chief Jeff Taylor will continue to add oversight and leadership to the fire district.
The combined fire districts will cover approximately 144 square miles and serve about 35,000 citizens with more efficient fire protection, improve response times, reducing the communities insurance ratings (ISO), improved use of resources, equipment, reduced administration costs, improved financial sustainability, and expand the opportunity for additional career firefighters.
The consolidation of ESDs is a first for Montgomery County and will set a precedence for other fire departments to follow to serve their residents more efficiently.
For more information please contact info@ESD7.org For phone inquiries call 281.689.3112. (See photo gallery attached.)