/

/

State officials status constituents on 84th Legislative session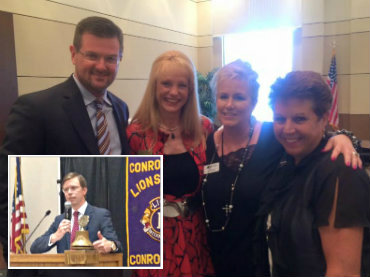 CONROE, Texas - In lieu of landmark decisions by the Supreme Court this past week, newly-elected officials focused on state issues of significant concern, sharing the status of bills they authored and co-authored, with their constituents at the Conroe Noon Lions Club, and the Conroe/Lake Conroe Chamber of Commerce respectively.
Conroe Noon Lions Club and Conroe/Lake Conroe Chamber of Commerce host state legislators.
At the Noon Lions Club, State Representative, Will Metcalf, District 16, who served on both the Economic & Small Business Development Committee and the Homeland Security & Public Safety, reported that the 84th Legislative session passed over 1,300 bills and resolutions.
"I don't know the number of bills Governor Abbott signed into law, but. Sunday at midnight (June 21) was the deadline for him to either veto bills or sign legislation into law."
"You can see that there are 6,300 bills there. That's a lot of bad ideas.," joked Rep. Metcalf. "It's always good when the session is over, that way people in the business community & others can just rest for a little while, because they're not going to hurt you anymore."
On a serious note, Rep. Metcalf provided some details that comprise the state budget…
"Speaking of the 209 billion dollar state budget...that is House Bill 1. It represents a growth of 3.6 percent, which is less than 2 percent per year; this also stays within the state spending limit in the Texas constitution," said Rep. Metcalf. "This also prioritizes border security, transportation, education, and it also increases transparency and accountability in the state of Texas."
Of special interest to Representative Metcalf is the subject of border security. The state is currently spending over 840 million dollars just on border security alone. House Bill 11 is 320 million dollars, and included in it is an additional 250 new Department of Public Safety Troopers for border patrol. Health and human services comprises 36 percent of the state budget; education is 37 percent.
Other bills mentioned included: -House Bill 13 to fund transportation by allotting a percentage of Sales Tax revenue in 2017, and in 2019, a percentage of vehicle sales tax, to the Texas Department of Transportation, to fund Texas roads. This is subject to voter approval in November.
-Homestead Exemption (HB ) - Provides tax relief by increasing Homestead Exemption by ten thousand dollars...from fifteen to twenty-five thousand dollars. The bill also increased the state's portion for the contribution to education to make up for the ten thousand dollar difference, so that the school districts would not lose the revenue.
-House Bill 32...a 25 percent across the board cut in the State Franchise Tax; a 2.6 billion dollar tax cut.
-Education funding (HB 1) for the increase in 80 thousand students per year increase in states schools, and also includes one and a half million dollars for the public education system. Included in this bill, provided funding to keep TRS from raising premiums or cutting benefits for 230,000 retirees.
- House Bill 10, allows for those 21 years or older to openly carry a handgun, provided they have a Concealed Gun License.
-House Bill 3764 - The deregulation of small honey production in volumes of 2,500 lbs or less.
-Tow rotation bill (HB 2213). which minimizes traffic congestion at accident sites in unincorporated areas, whereas the law enforcement jurisdiction will summon a tow truck that is next in rotation. The bill was Metcalf's first solo bill passed through the House.
-The Guardianship bill (HB 39) which allows guardians to fill out paperwork for mentally incompetent seniors and the mentally ill, who have been incarcerated. "What I'm also very pleased about. This leaves 11 million dollars in the state's rainy day fund," stated Rep. Metcalf. "Me being a conservative. I like to have cash set aside, and I'm very pleased with this number."
For a freshman in the state's House of Representatives, Metcalf has authored an astonishing 43 bills, and co-authored 29. To view the list of bills see Re. Metcalf - Bills Authored/Joint Authored.
The following day, Representative Metcalf was joined at the Conroe Chamber of Commerce by State Senator, Brandon Creighton, of District 4, whose position Metcalf filled.
In his first term in office as State Senator of District 4, Creighton has been appointed Vice Chair of the Committee on Business and Commerce, and to both the Committee on Criminal Justice, and the Committee on Agriculture, Water and Rural Affairs.
Among the many initiatives that Senator Creighton has championed…
Agreed upon tax relief plan for the 84th Legislative Session as previously detailed above.
Proposition 6 on the November 2015 ballot...The "Right to Hunt and Fish" Act...a constitutional amendment recognizing the right of people to hunt, fish, and harvest wildlife subject to laws that promote wildlife conservation.
House Bill 4149 which amends the enabling legislation of The Woodlands Township.
House Bill 1881 - Private School Credit Card Bill which permits pre-K-12 private schools to allow parents to pay for their children's tuition through a credit or debit card instead of absorbing the fees in their school budget.
And just in time for the 4th of July, Senate Bill 76, which repeals the additional two percent tax on businesses that sell fireworks in the state of Texas.
For specific details on these bills see Senator Brandon Creighton: District 4.
Senator Creighton received an Honorable Mention in the newly-released July issue of Texas Monthly, stating "Senator Creighton had one of the few successes concerning property taxes, passing a "Truth in Taxation" bill that included a provision requiring local governments to justify the necessity of tax increases."
Those with concerns about the above mentioned bills, or issues they feel state legislators need to be informed about, are encouraged to attend these public forums which always provide an opportunity for questions and answers. Contact their offices for their itineraries.
State Representative Will Metcalf (R), District 16
326 1/2 N. Main
Suite 100
Conroe, Texas 77301
(936) 539-0068
State Senator Brandon Creighton, (R), District 4
350 Pine Street
Suite 1450
Beaumont, TX 77701
(409) 838-9861
U.S. Congressman Kevin Brady, (R), of the 8th Congressional District, also spoke to the Conroe/Lake Conroe Area Chamber of Commerce on May 28, concerning Medicare reform and the Trade Promotion Authority (TPA) to set trade rules. For Congressman Brady's itinerary, contact his office at:
Congressman Brady, District 8
200 River Pointe
Suite 304
Conroe, Texas 77304
(936) 441-5700
#DeepInTheHeartOfTexas