/

/

Senator Brandon Creighton commended for exemplary record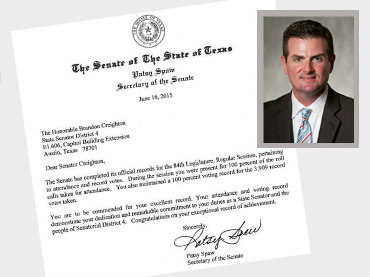 MONTGOMERY COUNTY, Texas - Texas Senate attendance records revealed that Senator Brandon Creighton, (R), District 4, had a 100 percent attendance for the 84th Texas Legislative Session, and voted 100 percent of the time on the 3,909 record votes taken.
100 percent attendance and voting record for the 84th Texas Legislative Session.
Secretary of the Senate, Patsy Spaw, commended Senator Creighton in writing…
"You are to be commended for your excellent record. Your attendance and voting record demonstrate your dedication and remarkable commitment to your district as a State Senator, and the people of Senatorial District 4. Congratulations on your exceptional record of achievement."
This is Senator Creighton's first term as State Senator. He won the special runoff election August 5, 2014, defeating another Republican, Steve Toth of The Woodlands, 67.37 to 32.62 percent.
Toth gave up his seat in the Texas House of Representatives, to run for the Senate. He previously served one term as the Representative for District 15, which serves South Montgomery County.
Creighton also served in the Texas House of Representative for the 16th District, serving North Montgomery County. His tenure in the House was seven years, 2007-2014.
Senator Creighton also received an Honorable Mention in the newly-released July issue of Texas Monthly, stating "Senator Creighton had one of the few successes concerning property taxes, passing a "Truth in Taxation" bill that included a provision requiring local governments to justify the necessity of tax increases."
#attaboy