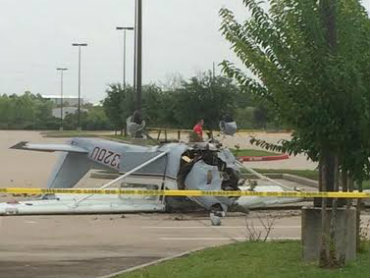 SHENANDOAH, Texas - A small airplane crashed in the parking lot of Woodforest Bank Stadium east of I-45N, and south of SH 242, early Friday just after noon.
The pilot, Michael Durr of Houston, said he departed Cleveland, Texas, and was on his way back to Weiser Airport when his engine died. Durr contacted Hooks Airport and informed them he was going down in the parking lot. His vintage Cessna 172, circa 1963, clipped a tree and flipped upside down. The pilot walked away from the crash but did suffer some minor injuries. He was treated and released at the scene.
"He did a great job by circling around, coming back and putting the plane down here in the parking lot with minimal property damage and just a few injuries," said Trooper Erik Burse, Public Information Officer for the Department of Public Safety.
The Montgomery County Precinct 3 Constable's Office also responded to the call.
There were no passengers on board the plane. The Federal Aviation Administration (FAA) was called to the scene and will investigate the cause of the crash.
#SkyDive