Local plumbing company collects over 1.5 tons of food to benefit four-legged friends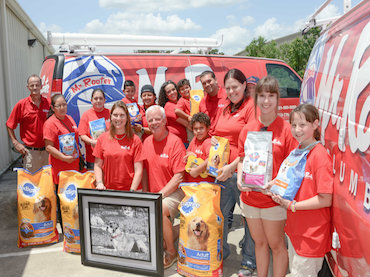 MONTGOMERY COUNTY, Texas – Mr. Rooter Plumbing of Montgomery County completed a three month pet food drive on June 30th, resulting in more than 1.5 TONS (3,000 pounds) of food donated to the Montgomery County Animal Shelter and Conroe Animal Shelter.
Mr. Rooter Plumbing began hosting a promotion to their customers on April 1, 2015 in which the technicians would offer a $50 discount off services in exchange for one bag or six cans of dog or cat food. President, Roger Goertz, and Executive Vice President, Natalie Saikowski, were inspired by their rescued boxer named Jiggles "Jiggs" to begin this promotion. Although Jiggs passed away unexpectedly one day before the promotion ended, her legacy will continue to live on.
"Mr. Rooter Plumbing began hosting the bi-annual food drive Spring 2014 because we want to help raise awareness in our community for our local animal shelters and animal rescue in general. In addition, our objective is to assist our local animal shelters with their food shortage due to the high resident capacity. This is the third food drive we have hosted and are thrilled to be able to provide such a large impact on the shelters", stated Natalie Saikowski, Executive Vice President of Mr. Rooter Plumbing of Montgomery County.
The total collection after three food drives has yielded more than 4 tons of dog and cat food donations (one ton = 2,000 pounds). Saikowski, who has been active in animal rescue for more than 13 years, says she also hopes to help our community realize that the shelter is an excellent source for adoption.
"The shelter has an abundance of animals and people are typically able to find the breed they are seeking. Jiggs lived a portion of her life in a shelter, so I would encourage others to find their next family pet there", stated Saikowski.
The collected dog and cat food was delivered to the Montgomery County Animal Shelter, by which half of the food was further delivered to Conroe Animal Shelter, on Saturday, July 11. "We coordinate this food drive twice a year because the shelter always has a need and we intend to do our part to help fill the demand. Jiggs lived life full of purpose and passion, so we plan to continue to honor her legacy."
For more information or to donate dog or cat food, contact Natalie Saikowski of Mr. Rooter Plumbing at 281-364-7077 or visit your local animal shelter. To view pictures and videos from our food delivery, please visit our Facebook page at the link provided. For more information about the Montgomery County Animal Shelter, please visit their website at www.mcaspets.org.
#RIPJiggs