/

/

Installing Microsoft Windows 10 - Don't Attempt Without Calling 911 Data Recovery!
Installing Microsoft Windows 10 - Don't Attempt Without Calling 911 Data Recovery!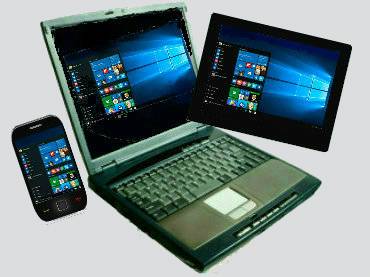 CONROE, Texas - Are you or your business getting ready to update to the new and improved Windows 10 from Microsoft? Yes, it's a free upgrade for anyone running Windows 7 or newer systems, but beware of attempting this yourself. Consulting with a professional computer services company like Data Recovery can save you time and frustration.
Windows 10 is designed to run on multiple platforms including laptops, mobile devices, desktops, and TV via the Xbox One Console, and even the upcoming HoloLens-a Microsoft hologram with a headset that allows the user to see virtual objects as if they were reality. There are a lot of advantages to the well anticipated upgrade, but the challenges of doing it yourself with error codes, will baffle the average user.
Advantages
Cortana is the voice activated personal digital assistant similar to Siri from Apple. Find files quickly, manage your calendar, set reminders, ask questions about math equivalents, calorie counts, or random conversation all by typing a question in the search box of the taskbar, or select the mic icon to speak with Cortana.
Microsoft Edge is an all new Windows 10 default browser that replaces Internet Explorer, and will be integrated with Cortana for searches. This is Microsoft's answer to fast web browsing without all the confusing unwanted task bars and blunders that Internet Explorer was known for in the past. Upon opening the homepage, "Where to next?" is displayed with personalization based on individual Microsoft account history with web pages, newsfeeds, and weather updates. Powered by Bing, you can Ask Cortana to help locate relevant information through a direct question. Articles of interest may also be saved through A Reading List option or shared through OneNote to send via email, Twitter, or Facebook.
Windows 10 will allow multitasking by opening up 4 apps on the screen at once. The OneDrive app will sync and store all your business and personal information for free while you are working. OneDrive for Business will share all your work files to simplify collaboration.
Lastly, security is enhanced without adding passwords through Windows Hello, a personalized biometrics based identification using your face, your fingerprint, or your eyes to identify users to login to a device or web accounts. Of course you will need a special camera for this feature and it is included on newer PC's. This is Microsoft's answer to eliminate passwords with a universal login.
So why not do this yourself?
"We have been crazy busy with failed upgrades. Consumers need to know this information before they attempt this upgrade to Windows 10 on their own," said Brad Schlerf, Founder and CEO of 911 Data Recovery and the parent company Forensic Solutions, Inc.
Once you start the upgrade there are many possible error codes that will prevent the proper installation and curtail any work on your device until remedied quickly by a professional or by phone with Microsoft support. Error codes include:
A file or driver is missing to complete the update
software not compatible
not have enough free space to upgrade to Windows 10
Can't complete the update, undoing changes-Don't turn off your computer.
Failure configuring Windows Update-Reverting Changes
Upgrade isn't compatible to computer
Maybe you have an incompatible app installed on your PC that is blocking the upgrade. Or your PC doesn't meet the minimum requirements to install Windows 10. In many cases your PC or mobile device will be frozen until your receive professional assistance.
Who do we call for Help?
Call 911 Data Recovery before you attempt to upgrade to Windows 10. It is a great upgrade when installed correctly that will enhance your experience and allow for additional efficiency.
Forensic Solutions Inc, is the parent company for 911 Data Recovery, Verify ID, 911 Mobile, and Project Safe ID. with solutions to all computer services, cell phone repair for both android and iPhones, and identification tags for pets, children, and home repair workers. Services include back-up solutions, updates, virus/malware repairs, monthly maintenance for small businesses, remote repair, server maintenance, data networking, and recovery of data. New this month, 911 Data Mobile is starting a CASH for Phones Program on iphones and other brands in ANY condition.
Other businesses include Verify ID (www.verify-id.com) and Project Safe ID (www.ProjectSafeID.us). Verify ID takes the concept of an ID badge and partners with a scan-able code to verify the individual's employer, security level, credentials, and other status updates. This is a great addition for home improvement professionals to increase security before a client opens the door to their home of someone they may not know. Project Safe ID focuses on children, elderly, and pets. It is the non-profit division providing a digital verification service with a scan-able QR code with information that directs an individual to parents and medical information. This device can assist with lost children, emergency alerts, allergies, and provide information for missing pets.
911 Data Recovery is located at 12621 Hwy 105 west of Conroe (77304). For additional information about 911 Data Recovery or Forensic Solutions, Inc visit the website at www.911DataRecovery.org and www.911mobile.org, or follow them on Facebook or call 281.891.3872. Visit the location and check in on Facebook for an additional discount.
#DontAttemptThisAtHome