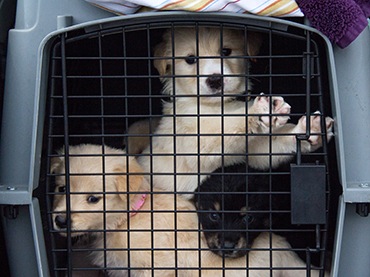 MONTGOMERY COUNTY, Texas - Not only do you get to name your pet, you get to name your price this weekend at the Montgomery County Animal Shelter (MCAS). This Saturday and Sunday, June 27 and 28, the shelter is featuring a 'Name Your Fee' adoption event.
Overcrowding at selter provides a 'best buy' for pet ownership June 27 & 28.
Currently at capacity with over 900 animals, the shelter has set a goal to place as many pets as possible this weekend, in 'fur-ever' homes. Adoption fees are regularly $25 - $80, and include spaying/neutering, rabies and other vaccines, and also micro-chip. The shelters is requesting a minimum $10 adoption fee, but more would be greatly appreciated.
For those wishing to grow their families by an additional four feet, will still be subject to screening, and will need to produce a valid Texas drivers license, and a current utility bill in their name. An application will also be required.
Staff members and volunteers will be on hand to assist with the selection and approval process, and it is recommended that you view the available pets on the Montgomery County Animal Shelter website, to have some choice in mind before your arrival.
MCAS takes in a staggering 20,000 homeless and unwanted pets each year. The daily adoption rate is averaging 40 per day; approximately half of the intakes.
Senior pets are free to seniors 55 years or older, and make wonderful companions for the homebound. Families with one pet are encouraged to get another. Pets are less likely to suffer separation anxiety when they too, have a companion, and they're less destructive.
To lessen the overcrowded conditions, the shelter could use a few more foster homes. Those who are willing to take an animal on a temporary basis, can obtain more information on the website or email the shelter at inquiries@carecorporation.net.
Other opportunities to help include donations of essential items. See the shelter's Wish List. And monetary donations are always welcome. Click on Donate.
Read more about the Montgomery County Animal Shelter at Share your love with the animals at Montgomery County Animal Shelter.
The shelter is located at 8535 Hwy 242, south of Conroe (77385). The shelter's hours are:
Tues-Fri: 10:00 a.m. - 5:00 p.m.
Sat-Sun: 10:00 a.m. - 4:00 p.m.
And on an additional note, there are just a few days left in the month. Mr. Rooter Plumbing is holding their annual pet food drive to benefit the shelter up to the end of June. Read more about where you can conveniently drop off donations at Mr. Rooter Plumbing aids Mont Co Animal Shelter with pet food drive.
The need is great. Consider adopting, volunteering, or donate.
#OptToAdopt #MCAS